The Schenectady Foundation's Golden Celebration a Resounding Success
$2.5 million investment in grants sparks innovation and community commitment to transformational change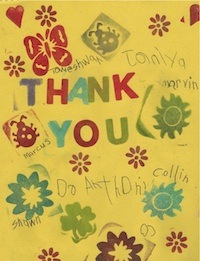 The Schenectady Foundation's 50th Anniversary Golden Celebration offered the community an ambitious slate of $2.5 million in grant opportunities, new scholarships, and special programs, including a commitment to a single grant of up to $1 million for a project with the potential to achieve transformational change.
The Foundation brought its Golden Grants campaign to a close by awarding the $1 million transformational grant to the Schenectady Bridges Partnership, a multi-sector collaboration to help Schenectady families build bridges out of poverty to sustainable lives.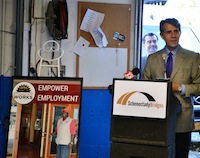 The Foundation's grant will catalyze the resources of the Bridges Partnership to help transform the quality of life for people in under-resourced communities. The Schenectady Bridges Partnership intends to create sustainable career employment, support indigenous leaders and neighborhoods to create their future stories, and make their communities more stable, safe and livable.
In addition to its $1 million grant to the Bridges Partnership, the Foundation approved nearly $1.5 million in Golden Grants and Scholarships that supported its Strengthening Families agenda, including $630,000 in Innovation and Capacity Building grants to substantially strengthen the ability of organizations to achieve their missions. These grants are supporting work to improve early childhood education, provide better training to those who work with families in crisis, improve high school graduation, and increase access to affordable loans and economic development activities.
More to Celebrate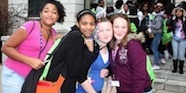 The Golden Celebration was the launch pad for TSF's Community Partnership Conference "Bridges to Success – Strengthening Families." The conference was attended by nearly 400 people and featured a keynote by Ruby Payne, PhD, internationally recognized speaker, educator and author of the Bridges Out of Poverty books and programs. Due to the overwhelming success of the conference, Community Partnership Conference II: "Bridges to Youths -- A Call to Action for Schenectady's Youth," is scheduled for December 3, 2014.
The Golden Celebration was also an opportunity to recognize and support the commitment and work of exceptional individuals in the community. At the "Celebration of Community," 12 extraordinary men and women representing 10 outstanding charitable organizations received Community Hero Awards for Leadership and Service. The Foundation awarded a grant of $10,000 to the organization affiliated with each Community Hero. An impressive array of talented young leaders – all of whom are meaningfully engaged in making their school, neighborhood or community a better place -- received Young Leadership Scholarships, totaling $50,000. Supporting the educational and career dreams of young leaders helps to seed the future of our community – one of the goals of the Golden Celebration.
Join the Celebration
Yes! I/we will gladly support The Schenectady Foundation's 50th anniversary programs by joining the Golden Celebration Committee at the following level:
Founder: $1,000
Partner: $500
Stakeholder: $250
Community Builder: $100
Golden Celebration Committee