The Schenectady Foundation's 50th Anniversary
A Golden Work in Progress
$2 million grant program stimulates innovation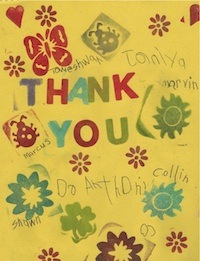 The Schenectady Foundation launched its 50th Anniversary Golden Celebration last spring with an ambitious slate of $2 million in grant opportunities, new scholarships, and special programs. The Golden Celebration has engaged the community in meaningful dialogue about transformational change that will strengthen Schenectady's families and future. We have accomplished much, and have much more ahead of us.
Foundation Makes First $1 Million of Its Golden Grants
Through May 2014, TSF had already received more than 50 proposals and inquiries into its grant program. Total funding requests exceeded $10 million. The increased demand – well beyond our available budget – has meant many difficult decisions. Thus far the Foundation has approved grants and scholarships totaling $1,050,000. Still remaining is our Transformational Grant opportunity – a single commitment of up to $1 million for a project with the potential to bring about transformational change.
Seeking Transformational Change

"What would be transformational"? That's the question driving the Foundation's $1 million Transformational Grant opportunity – the centerpiece of our Golden Grants. The question has stimulated productive conversations within and among community partnerships as to what could be accomplished with a significant investment in a single project. The bar has been set very high, driving organizations to consider how the grant could leverage sustainable, visible, measurable change.
The Foundation is currently reviewing submissions for the Transformational Grant, and remains open to new concept proposals that may come forward. We hope to be in a position to announce the transformational grant later this spring.
Capacity Building and Innovation Grants Lead the Way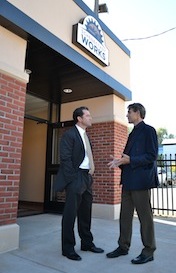 To-date the Foundation has committed $630,000 in five new Innovation and Capacity Building grants that will substantially strengthen the ability of the organizations to achieve their missions. These grants are supporting work to improve early childhood education, implement strategies to move families out of poverty, provide better training to those who work with families in crisis, improve high school graduation, and increase access to affordable loans and economic development activities to residents and businesses who can most benefit from them.
More to Celebrate
At our May 20th "Celebration of Community," 12 extraordinary individuals representing 10 outstanding charitable organizations received Community Hero Awards for Leadership and Service. The Foundation will award a grant of $10,000 to the organization affiliated with each Community Hero. Recipients of Young Leader Scholarships, totaling $50,000, will also be announced soon. These programs were created to recognize and support the commitment and work of exceptional individuals in the community.
GOLDEN GRANT HIGHLIGHTS
During the Golden Celebration, the Foundation has to-date committed $1,050,000 in grants and scholarships in support of its Strengthening Families agenda.
Innovation & Capacity Building Grants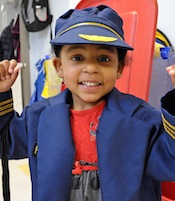 Capital District Child Care Coordinating Council -- $103,500: Innovation grant to implement a "Coordinated Assessment, Instruction and Outcome Measurement System" across the 36 early childhood classrooms in the Bigelow Corners Partnership: Capital District Child Care Coordinating Council, Parsons Child & Family Center, Schenectady Community Action Program, and the Schenectady City School District.
Samaritan Counseling Center -- $150,000 to expand the Strengthening Families Training initiative which improves outcomes for families and children in crisis by training counselors and therapists, and building successful interagency collaboration. The grant will also seed development of a new "parenting center" model that will assist parents to support their children, and to access resources that support effective parenting.
City Mission of Schenectady -- $107,572 to support the further development of the Schenectady Bridges Out of Poverty Partnership, and to start Schenectady Works, a partnership of businesses and community-based organizations to help people move out of poverty into sustainable jobs and family life.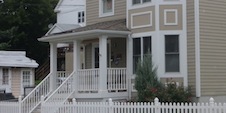 Community Loan Fund of the Capital Region -- $120,000: Supporting CLFCR's new – and first – satellite office, located in Schenectady's distressed Hamilton Hill/Vale neighborhood – giving access to low-cost residential and business loans, and technical assistance to those who will most benefit from their services. In its first three years CLF plans to invest nearly $2 million in the community as a result of this grant.
Northeast Parent & Child Society -- $150,000 for developing a drop-out prevention strategy and innovative curriculum as part of its Youth Build program. The 3-year project will provide a rigorous alternative path to graduation and college-level study for students who might otherwise drop out of school.
Open Grants
Home Furnishings Program -- $10,000: Matching grant to help meet the growing need for beds for children and families in Schenectady who lack this basic necessity. The Home Furnishings Program provides household items in excellent usable condition at no cost to people and families in need in Schenectady.
Working Group on Girls -- $35,000: The Schenectady County Working Group on Girls was awarded this grant for its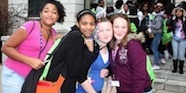 successful Girls Day Out programs, now in its fifth year, which helps girls in the Schenectady City School District make a positive transition from middle school into high school, build healthy relationships, examine options, set personal and education goals, and expand their vision of personal options.
Proctors Theatre -- $3,000: Grant will enable students from Schenectady High School's robotics program to participate in a National Robotics Competition.
Schenectady Community Action Program/Head Start -- $65,000: The grant ensured that services continued for 36 three-year-olds and their families in the Schenectady County Head Start program through the end of the school year, despite budget cuts forced by the federal sequester in March 2013. The grant enabled the delivery of both the center and home-based programs, which offer a combination of academic, social and health benefits to the children.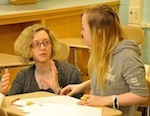 SCCC Smart Scholars -- $100,000: The Foundation's grant is helping to make this successful early college program available to more Schenectady High School students who face significant barriers to success, such as poverty, low academic achievement and limited social support. This is the second $100,000 grant from TSF to the program, which include college-level summer coursework at SCCC and other tutoring and academic enrichment activities.
Schenectady County Library -- $14,307: "Dream Big, Read," a partnership between Keane Elementary School and the Schenectady County Public Library, is an intensive program that supports the language and literacy development of incoming first and second graders who struggle with reading. The TSF grant made it possible to expand the successful program to reach more children.
Crossroads Center for Children -- $10,000: Crossroads will use this grant to purchase new curriculum and tenchnology that will increase essential education skills in children with autism.
YMCA -- $5,000: This grant will continue to support the YMCA's successful after-school program for students from Oneida, Mont Pleasant, and Kind Middle Schools.
Proctors ArtsLab -- $150,000: ArtsLab is a partnership between Proctors and Schenectady County Community College (SCCC). Funds will be used to help renovate the unused third floor of its administration building into a multi-use arts education center, with a 106-seat black box theatre, three classrooms, a media lab and a dance studio/community event space. ArtsLab will be used by SCCC theatre and media classes along with Proctors education programs and community events, serving over 10,000 people each year.
miSci's Challenger Learning Center -- $125,000: Funds from TSF will be used to construct and open a Challenger Learning Center (CLC) at miSci – Museum of Innovation and Science. Based on the space shuttle and the NASA space exploration program, the CLC model enables students to experience a space-themed science, technology, engineering and math (STEM) program. $25,000 of this grant will help Schenectady youths involved in TSF's Strengthening Families program to take advantage of the CLC experience.
Girls Inc. "From the Ground Up" -- $50,000: Funds will support the organization's capital improvement project to conduct repairs and renovations that will bring its facility into compliance with current building, safety and access codes and help increase organizational effectiveness, community outreach and service delivery capacity.
Join the Celebration
Yes! I/we will gladly support The Schenectady Foundation's 50th anniversary programs by joining the Golden Celebration Committee at the following level:
Founder: $1,000
Partner: $500
Stakeholder: $250
Community Builder: $100
Golden Celebration Committee