$1 Million Transformational Grant Awarded to Schenectady Bridges Partnership

The Schenectady Foundation brought its Golden Grants campaign to a close by awarding a $1 million transformational grant to help Schenectady families build bridges out of poverty to sustainable lives.
The grant, awarded to the Schenectady Bridges Partnership, is the capstone of the Foundation's 50th Anniversary Golden Grants program, which has resulted in more than $2.6 million in grants and scholarships being invested in the Schenectady County community.
The Foundation's grant will catalyze the resources of this multi-sector collaboration to help transform the quality of life for people in under-resourced communities. The Schenectady Bridges Partnership intends to create sustainable career employment, support indigenous leaders and neighborhoods to create their future stories, and make their communities more stable, safe and livable.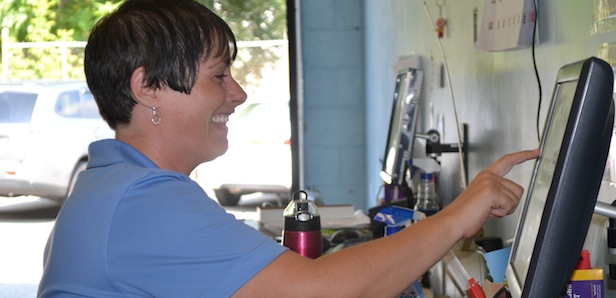 The Bridges Partnership plans to leverage more than $1.5 million in additional resources to help Schenectady families to build bridges out of poverty. The effort is expected to assist as many as 1,000 individuals to obtain, retain or improve their employment over the next three years.
"In 2011 The Schenectady Foundation made a modest grant, planting the seed that helped the Schenectady Bridges Partnership get off the ground," said Robert Carreau, The Schenectady Foundation Executive Director. "The progress since then has been compelling – dozens of organizations, businesses and government agencies have joined the effort. With the $1 million grant, we are making a catalytic investment that will bring this movement to scale over the next three years, spark innovation, and provide community members with an opportunity to chart a course to sustainability."
Collaboration is a Key to Success
The Schenectady Bridges Partnership is built on multi-sector collaboration, engaging key partner organizations and dozens of additional supporting partners that share in the mission.
City Mission of Schenectady is serving as the lead agency, and will coordinate the activities among the other partners, including: Schenectady Community Action Program (SCAP), Boys & Girls Clubs of Schenectady, Community Fathers, Schenectady County Community College (SCCC), Neighborhood Transformation Coalition and Union Graduate College. "Other organizations are expected to join as new initiatives are rolled out over the next three years," said Carreau.
"Collaboration is a requirement to succeed," said Michael Saccocio, Executive Director, City Mission of Schenectady. "No single agency has the resources or capabilities to deliver on everything that is needed to accomplish transformation in the community. Collaborating is something that we have gotten very good at here in Schenectady. The Bridges Partnership is evidence that we are all aligned behind a unified mission – each doing our part to remove barriers to sustainability for people and families in our community."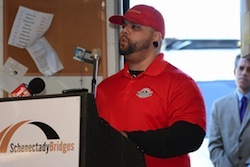 In total, about 75 agencies and 2,500 people have been trained in, or participated in, the Schenectady Bridges programs to-date. "We've had widespread consensus as to how we can all work together for the betterment of the community," added Saccocio. "We're at a point where we can really leverage that and take advantage of the resources that each partner brings to the table."
Employer Resource Network is an Early Win
Carreau noted that the Schenectady Bridges Partnership has already made progress in creating and sustaining employment opportunities for people who have previously had difficulty maintaining their work status.
"Organizations are working in unprecedented partnership to create opportunities for community members to access resources and to obtain employment. The Schenectady Bridges Partnership has shown its value not only to community organizations, but to the business community, by launching innovative programs such as the Employer Resource Network."
The Employer Resource Network (ERN) is one of the Partnership's early core initiatives. The ERN uses facilitators, called Success Coaches, to work with both employers and employees, to assist in successfully retaining entry-level workers – particularly those who are coming from poverty or have had difficulty maintaining employment in the past.
The Success Coaches connect employees to community resources that they need to support their continued employment. As a result, participating employers are experiencing improved retention rates, and reducing costs associated with training and rehiring. Started earlier this year as a pilot project, the ERN will be greatly expanded over the next couple of years. Currently, six Schenectady employers participate in the ERN: Best Cleaners, Ellis Medicine, Union College, Schenectady ARC, Northern Rivers Family Services and City Mission.
"Our experience in the ERN has been nothing short of phenomenal," said Susan Vellano of Best Cleaners. "Since we started working with the ERN our employee turnover rate has gone down significantly. This has the two-fold benefit of decreasing our operating expenses, and keeping community members in employment. It's a win for everyone."
A key Schenectady Bridges partner, SCCC is playing an instrumental role in developing the ERN and the educational and employment programs that are helping people build sustainable lives. In turn, the college receives assistance of other Bridges partners to support SCCC students.
"We see many challenges in helping people to succeed," said SCCC Acting President Martha Asselin. "Education and employment are a big piece. But it's connecting people to a comprehensive set of community assets that makes it all work. By building this partnership we can bring the full force of what the community offers to every student, every employee and every employer."
The grant announcement to support collaboration, and the expansion of the Employer Resource Network are the first components of the Schenectady Bridges Partnership to be launched. The Partnership is actually much broader, resting on five aligned strategies, including improving neighborhood safety and stability, coalescing community support and supporting indigenous leadership. The Partnership anticipates announcing the new programs connected to these strategies as they are piloted and ready for implementation.
"Transformation is a dynamic process," said Carreau. "We will continually develop, refine, and innovate as we go while adding new partners and resources. This is a challenging, long-term endeavor. But the commitment we've seen to date has us believing that the transformation we have seen in downtown Schenectady can indeed be shared and seeded among our citizens and in our neighborhoods."