News
2017 Scholarship Opportunities Announced
Posted on: Tuesday, January 10, 2017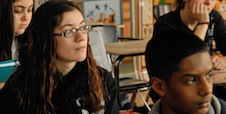 The Schenectady Foundation has announced two scholarship programs that are available to students graduating from Schenectady County high schools in 2017.
The Anna Hudson Erbacher Scholarship will be awarded to two graduating seniors of Schenectady County high schools who intend to pursue teaching careers. The scholarship is valued at a total of $10,000, and will be paid over a period of four years, subject to continued qualification, including satisfactory grades.
The Schenectady STEM Scholarship is available only to graduating seniors at Schenectady High School who intend to further their education in engineering or sciences. The scholarship was started in 2014 thanks to a bequest from the estate of Sanford Shuler, a graduate of Schenectady High School, engineer, inventor and former GE employee in Schenectady. The scholarship is for a total of $5,000, which may be paid over a period of four years.
Students interested in applying for either scholarship must complete the online application that is available on The Schenectady Foundation's website. Click here for access to the scholarship application. The application deadline is 5 pm on March 17th, 2017. Applicants are encouraged to start their applications early to ensure that they are completed by the due date.
The final selection of scholarship recipients will be based on scholarship, financial need, character and community or extra curricular school activities. The Foundation expects to announce the scholarship awards by May 1st.
For more information, contact Jean Churchill at 393-9500, or e-mail questions to: jchurchill@schenectadyfoundation.org.