Rebuilding Families Fund addresses long-term needs of flood victims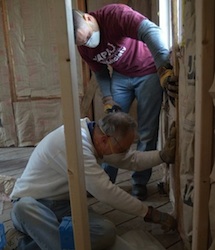 To help families whose homes and lives have been upended by Tropical Storms Irene and Lee, The Schenectady Foundation established the Schenectady County Rebuilding Families Fund with a seed grant of $150,000. The Fund has been supporting a coalition of community organizations that are working to assist county residents most severely affected by flooding and damage.

"After the immediate response of help subsided, many families were left facing a long period of recovery," said Robert Carreau, executive director of The Schenectady Foundation. "Our coalition came together to ensure that supports were in place for the long-term. We're finding new flood-related needs and concerns emerging even now -- six months after the flooding. And we anticipate that we have at least another six to eight months of solid work ahead of us."
The Flood Recovery Coalition for Schenectady County includes leaders from several key organizations, including Catholic Charities, City Mission of Schenectady, Habitat for Humanity, Schenectady Community Action Program (SCAP), The Schenectady Foundation, and congregations from St. Clare's and St. Margaret's Church. Each coalition partner brings a set of resources and expertise that are needed to help flood-affected families to rebuild their homes and lives.
"We are working together to identify what families need," said Debra Schimpf, executive director of Schenectady Community Action Program. "Our first concern was that people have their basic needs met for the winter months. We have dispatched volunteers and staff to identify family needs. The coalition has provided donated materials and financial resources to assist people to finish needed repairs on their homes that cannot be covered by FEMA, insurance or their own resources." In addition to helping meet families' basic needs, the coalition continues to provide families with case work, counseling and social supports over time.
Habitat for Humanity has played a central role in home repair and reconstruction. Habitat staff and volunteers have worked on dozens of Schenectady County homes since the storms. The work can be slowand complicated because the homes need to be dry and mold free before certain phases of construction can be completed. Many are older homes with wooden joists that were warped by the flood waters, making it more difficult to install insulation and wallboard.
Despite these issues, work has progressed to the point where more than a dozen families have moved back in their homes. The coalition is continuing to assist with renovations on forty other homes, and anticipates that work will continue through the summer -- nearly a year after the initial flood event. To-date the coalition has assisted nearly one hundred households.
Other coalition partners include American Red Cross, Better Neighborhoods, Mohawk Opportunities, Northeast Parent & Child Society, Parsons Child and Family Center, Samaritan Counseling Center and the New York State Chapter of the National Association of Social Workers. Local labor unions, municipalities, congregations and organizations such the Rotterdam Junction and Pattersonville Fire Departments have also played key roles. The coalition will continue to reach out to other agencies for assistance as specific needs are identified.
The coalition continues to focus its efforts on the homes and neighborhoods most severely affected by the storms. The group's work began by conducting a survey of households in Rotterdam Junction and Pattersonville to determine the status of their recovery and identify unmet needs. The group has also conducted outreach in Scotia, Glenville and Duanesburg, and will soon assess how it can help in the Stockade district.
Coalition partners have submitted requests to the Fund for appropriate resources needed for each family they are working with, whether for home repair, furnishings, clothing, counseling or other supports.

"We are all doing our best to help with limited resources," said Carreau. "We cannot promise to be able to provide everything a family may need, but we are committed to leveraging every available community resource to assist them. We also want our community to know that while the immediacy of the storms are weeks behind us, the needs of our community members are still very much there."

Community residents needing assistance may contact Schenectady Community Action Program at 374-9181 or Catholic Charities at 372-5667 during regular business hours.

Contributions may be made online via Paypal:
Or, sent to the Schenectady County Rebuilding Families Fund, care of:
The Schenectady Foundation
376 Broadway
2nd Floor, Schenectady NY 12305.
Contributions are tax-deductible, and 100% of all donations to the Fund will be used for the recovery program.
Donate Now
Contributions are tax-deductible, and 100% of all donations to the Fund will be used for the recovery program.