Bigelow Corners Partnership
Working Together to Better Serve Children and Families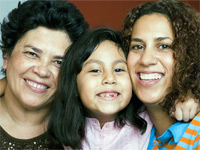 Bigelow Corners Partnership (BCP) is a strategic alliance of organizations dedicated to becoming a powerful ally to the children and families in Schenectady's Bigelow Avenue neighborhood as they work toward success at school and within their homes and communities.

The Partnership brings together the capabilities of the Capital District Child Care Council, Parsons Child & Family Early Head Start, Schenectady City School District's Keane and Lincoln Elementary Schools, and Schenectady Community Action Program (SCAP) Head Start. The organizations, which all have services on or near Bigelow Avenue, serve a total of about 900 children and their families. A $60,000 Strengthening Families grant from The Schenectady Foundation supported the initial planning phase of the project.

"Each of the partner organizations brings a different set of tools and expertise for working with children and families," said Patricia Skinner, Executive Director of the Capital District Child Care Coordinating Council. "If we want to see children reading at grade level and hitting important health and developmental milestones, we need to work with the entire family better than we have in the past."

It is the shared vision of the partner organizations that by working together, they can best identify gaps in services and realize better outcomes for children – from meeting important health and developmental milestones, experiencing easy transitions from one developmental milestone to the next, entering kindergarten ready to learn, enjoying positive social interactions, forming strong relationships, and completing high school prepared to enter a job or higher education.

For families facing economic, employment, medical or mental health challenges, BCP will provide social and educational support, guide parents and guardians to resources and offer the tools and support needed to raise competent, productive children who will be ready to raise their own successful families one day.

"We have all been part of the Schenectady community for many years, and feel very invested in its future," said Deb Schimpf, Executive Director of the Schenectady Community Action Program. "In forming the Bigelow Corners Partnership, we are taking a long-term view. We believe that by providing a continuum of services that strengthen and empower families, the Bigelow Corners neighborhood can become an inviting community of thriving, self-reliant families."