Busy Street Safer for Children and Families in Bigelow Avenue Neighborhood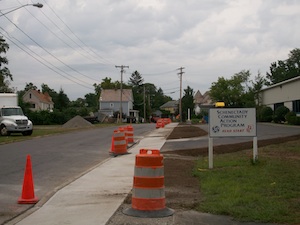 For the hundreds of children who walk on Bigelow Avenue to get to pre-school and elementary school, their daily travels no longer include dodging traffic. With the installation of a sidewalk the full length of Bigelow Avenue, connecting Watt Street to Albany Street, youngsters and their parents can now walk safely to their destinations.

The much-needed construction was a project of the Schenectady Community Action Program, Inc. (SCAP), which received a grant for $35,000 from The Schenectady Foundation. The project included a new bus loop for SCAP's Bigelow Avenue Head Start facility, which is used by at least five buses four times each day. New speed bumps and signage were added to help control traffic within the facility's parking lot, making it much easier and safer for family members, staff and visitors to use the main entrance.

A separate grant from The Schenectady Foundation for $167,000 allowed SCAP (www.scapny.org)to purchase two new school buses and to relocate one of their Head Start programs to the Yates Community Center.

"The two new buses have made it possible to continue to provide transportation for the neediest children attending SCAP Head Start," said Keith Houghton, SCAP Deputy Director. "Without these new buses many children living beyond walking distance would have no means to get to SCAP Head Start."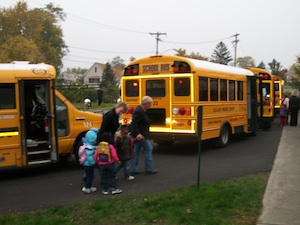 SCAP's Bigelow Avenue Head Start Center serves 208 pre-school children and their families each year. About a third live in the neighborhood and walk to and from Head Start each day. Directly across the street is the Parsons Early Head Start program that serves approximately 300 children. The two nearby elementary schools -- Lincoln and Kean – both have a large number of children who walk this section of Bigelow Avenue every day. Many local residents also walk this route to businesses on Albany and State Streets.
SCAP Executive Director Deb Schimpf said, "All the residents in the Bigelow Avenue area benefit from this project. It is a prime location for hundreds of families with young children to access schools and residents to access local businesses and services. This project is an excellent example of the partnership between SCAP and The Schenectady Foundation and our commitment to the neighborhood and the community."

Additional funding was provided by Carllilian Foundation for $18,000 and William Gundry Broughton for $12,000. The construction was done by Callanan Industries, which also donated some of the sidewalk curbing, and the City of Schenectady cut down the trees necessary to do the project.