Families Benefit When Agencies Collaborate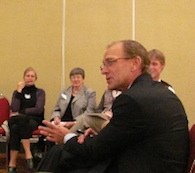 A father describes concerns about his 9-year-old's behavior to the school social worker. A grandmother meets with the coordinator of an after-school program to discuss her grandson's behavioral issues. In each case an individual treatment plan is developed. The problem is that there is only one child -- two separate treatment plans for the same child were created based on two different reports within the same family. The result is two competing plans that fail to best serve the child.

Though they work with many of the same clients, and share many of the same goals, those working to help Schenectady's troubled children and families often have little interaction with their colleagues in other agencies. As a consequence, children and families may experience confusion and fail to stick to treatment plans. The intended benefits for the child may not be realized.

To encourage interagency collaboration and improve effectiveness in working with families, more than 60 professionals from Schenectady County schools and human services agencies recently participated in the Strengthening Families Workshop presented by David Olsen, PhD, Executive Director of the Samaritan Counseling Center (samaritancounselingcenter.org).

The workshop, held at the Howe Magnet Elementary School on October 28 and 29, was funded by a grant from The Schenectady Foundation through its Strengthening Families program -- a multi-year commitment to providing a continuum of support for families. Samaritan Counseling Center, which promotes psychological and spiritual health through counseling, psychotherapy and education, is a Strengthening Families community partner.

Workshop participants were introduced to the "multi-systems" approach to working with families. This approach emphasizes the importance of creating common ways of working with families across disciplines. A lack of communication among agencies, and even different terminology, can be counterproductive for all involved. If children are receiving mixed messages from counselors, there is a replication of the chaos they may already be feeling within their own families.

Dr. Olsen's presentation was intermingled with a series of intensive group activities focused on practical uses of the multi-systems approach. Professionals met face to face to connect voices and names to one another and to hear varying perspectives. The result was a feeling of cohesion among participants and a chance to gain insight into the experiences of colleagues and clients. In fact, the counselors involved with the 9-year old boy described above were able to recognize the source of the disconnection in their plans, and identify remedies to future problems.

One participant noted that, "I hope this can be the start of creating synergy in the Schenectady community." In fact, the enthusiastic response to the presentation and group activities led to the development of four study groups that will continue to meet monthly to focus on advancing the collaborative work begun during the workshop. Another workgroup was formed to support quality professional supervision in the schools and agencies.

Workshop participants represented a multidisciplinary range of professionals who work with Schenectady families: school social workers, guidance counselors, psychologists, nurses, probation officers, mental health counselors, clinical social workers and marriage and family therapists. Among organizations represented were Schenectady City Schools, Bethesda House, Schenectady County Probation, Department of Social Services, City Mission, Hometown Health, Northeast Parent and Child and The Schenectady Community Action Program.

One person commented that it was "great to see the diversity of agencies in the room." Another expressed that the workshop was "very informative and leaves a lot to build on." Perhaps most encouraging was the simple comment offered by a participant reflecting on how the initiative offered real tools for developing a more cohesive, consistent and centered community within which children and families can grow: "It gives me hope."

For more information, please call Dr. David Olsen, Executive Director, Samaritan Counseling Center, at 518-374-3514.