Foundation Grant Adding 100 Summer Jobs for Schenectady Youths
Private-Public partnership to deliver enhanced skill-building program to prepare youths for sustainable employment.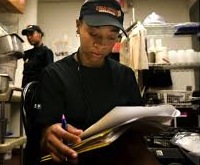 A grant by The Schenectady Foundation has added 100 participants to Schenectady County's Summer Youth Employment program. The $125,000 grant will enable Schenectady Job Training Agency (SJTA) to expand the program that provides a part-time work experience for low-income youths ages 14-21 for six weeks in July and August this summer.
In addition, the Foundation's investment has helped bring together private and public sector partners to deliver a robust program to build participant skills and increase their awareness of -- and access to -- community resources that can aid their advancement.
Learning By Doing: Young Workers Develop Job Skills for Future in Summer Work Program, Daily Gazette, Aug. 5.
The program will engage 325 youths who will be offered 20 hours/week at $8.75/hour. Interests, location, and experience determine youths' assigned worksite and a job coach will be a liaison between youth and worksite supervisors to teach job skills. Youth also receive an academic component, which teaches financial literacy and career development.
The grant is part of an emerging effort by the Foundation and community partners to improve outcomes for youths, stemming from the Bridges to Youths conference sponsored by the Foundation last December.
"One of the core concerns we heard at the conference was a lack of work opportunities for youths," said Robert Carreau, executive director of the Foundation. "We gathered several partners around the table and worked with them to devise a program offering the kids an opportunity to build their personal skills and assets. The work experience itself is important, but so too is having the youths construct their future stories – understanding that they can create a future they can work toward."
Collaboration brings new resources to youths
The Summer Youth Employment Cooperative is headed by SJTA with support from several community partners: Boys & Girls Club of Schenectady, Safe, Inc., City Mission and SCCC.
The Boys & Girls Club will organize an intensive weekly program for approximately 40 of the participants to guide them in developing "soft" skills that are invaluable to sustaining employment. Safe, Inc. and the City Mission are involved in developing the content for the weekly topics that will include components of the Bridges Out of Poverty training designed to help low-income teens navigate community resources and create their "future stories."
"This grant is helping us take Summer Youth Employment to another level," said Jennifer Bargy, SJTA's Director of Employment. "We're increasing the number of youth employment opportunities from about 220 to 320, and making it a much more robust experience for the kids."
SEFCU and CDTA are also providing key resources to the youth participants.
SEFCU will provide financial literacy instruction to participants, assist them to open savings accounts and help them to learn about money management. The Foundation and SEFCU will match up to $10 of each participant's deposits to their accounts as an incentive for the youths to build their savings. CDTA provides Summer Fun Passes so youth have guaranteed transportation throughout the program. A CDTA Travel Trainer provides guidance to youth regarding transportation and is proficient in the various bus routes.
SCCC provides a location for educational components of the program. Youth who attend these components will tour SCCC and learn about the college, explore its programs, and envision the possibility of incorporating higher education into their future story.
Based on support voiced at the Bridges to Youths conference the Foundation is developing, along with community partners, a "Call to Action for Schenectady's Youths" -- a strategic initiative that will be launched later this year. This grant represents an initial investment in the emerging Call to Action.