Foundation Grant Helping Match More Schenectady Children with Big Brothers, Big Sisters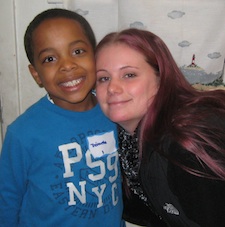 Chanille Gibbs, a self-described "over-protective" mother has a great deal on her plate. In addition to a 21-year-old son, she has a 10 year old, twin 8-year-olds, and a husband who is blind and disabled.
"My older son works a lot and can't do all the 'big brother' things, and I'm not able to do all the things that need to be done for my little ones," she said.
Concerned that her younger children were missing out, Chanille turned to Big Brothers Big Sisters of the Capital Region, where her elder son had a positive experience years before.
Eight-year-old TreVaughn (who goes by "Dewey" to his family) received his carefully screened and selected match in November. The timing was especially good for the little boy. He had recently transferred elementary schools and was finding it difficult to adjust to a much larger classroom than he had previously experienced.
"He just needed someone to take him out, spend some time and have fun," said his mom.
It turns out that "Big Sister" Megan was the perfect match.
"I love the program," said Megan, 26. "Dewey and I went to Chuck E. Cheese's once, and I'm not sure who had more fun. After five minutes of him running around, he wanted to do only two-person games. He was so excited to tell me what games he wanted to play he could barely eat his pizza!"
Megan, who works in Scotia, and Dewey see each other two to four times a month and talk on the phone once a week. Dewey's mom approves the activities in advance, and if something will cost more than she can spend, she can veto it.
Megan and Dewey share a love for sports and outdoor activities. But before the weather warmed up enough to go to the playground, they played indoor mini-golf, went to a pottery place and painted, and attended parties at Big Brothers, Big Sisters.
"He actually cries sometimes when he comes back from being with Megan, because he wants to do things with her," said Chanille. "He'll ask me when she is coming back."
When Megan's grandmother passed away in December, she had to take some time away, but kept in regular phone contact with Dewey. Megan was thrilled when Chanille sent her a photo of Dewey with a huge smile on his face while he was talking to her on the phone.
"We have such a cool relationship now," said Megan. "The program doesn't tell you how you should be. They need somebody who they can talk to without any judgment."
A $75,000 grant from The Schenectady Foundation is helping Big Brothers Big Sisters of the Capital Region match an additional 150 children like Dewey in Schenectady County with caring adults, like Megan.
"The Schenectady Foundation is proud to support Big Brothers Big Sisters," said TSF Executive Director Robert Carreau. "Their mission to provide children facing adversity with enduring mentoring relationships directly aligns with the Foundation's commitment to building a supportive community and strengthening families."
Megan is very close with her nieces and nephew who she has been helping out with since she was 13. She saw the positive influence outside adults like grandparents had on the children -- particularly when their fathers were not so reliable.
Eager to have that kind of positive influence on someone else, she was drawn to Big Brothers Big Sisters.
"At first I didn't think I would get anything out of it; I knew what it meant to kids at a certain level because of my nieces and nephews, but to be able to do that with a complete stranger was something else. To see this little person so happy, and to hear how happy he is that I call every weekend. To be there for someone you're not obligated for. I am getting so much out of it. It's really rewarding for both of us."
Dewey doesn't talk too much about school to Megan, "He'd rather talk about the fun stuff. But I gave him my cell phone number and told him he could call anytime. I told him that if there's anything he wants to talk about, I will always listen. And he said 'I know.'"