Helping Bethesda House Serve the Homeless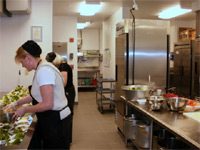 Since opening the doors of its new State Street location in March, Bethesda House is now providing safe and clean permanent housing to a significant number of Schenectady's chronically homeless disabled adults. In addition, Bethesda House continues to give needed assistance and shelter at their drop-in center during daylight hours.

Thanks to a $90,000 grant from The Schenectady Foundation, the facility is outfitted with a brand new, fully equipped commercial kitchen where 150 daily meals are prepared and where clients may learn marketable kitchen skills.

The new Bethesda House, the first building owned by the organization, offers all of the services provided at its former Liberty Street location, including a safe-haven hospitality center, a daily afternoon meal, free clothing distribution, showers, laundry facilities, emergency food pantry, case management services and referrals to other social service agencies. Bethesda House also makes available a computer and mailboxes for receiving postal mail and sending and receiving email. These resources can be crucial to a person without an address who is looking for a job.

Upstairs at the new 20,000-square-foot facility are the Liberty Apartments. These 16 bright and cheery studio apartments provide a permanent home and supportive services to chronically homeless, disabled men and women.