Helping Families Move from Poverty to Sustainability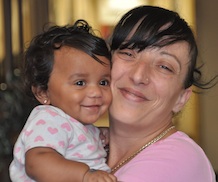 Arriving on time for a doctor's appointment is something most middle class people do, and do with relative ease. If you live in poverty, however, arriving on time, if at all, is not a given. If you depend on public transportation, if the weather is bad and you have to push a stroller through the snow for blocks, if your unreliable childcare hasn't come through, or if the heat stopped working in your apartment, that doctor's appointment is not a priority.
Understanding the "hidden rules of economic class" and challenges of living in a continual struggle for survival is at the heart of Bridges out of Poverty, a powerful model for economic and social change and stability that, with the support of The Schenectady Foundation, is being adopted by numerous organizations in Schenectady.
Hidden rules are the unspoken cues and habits of a group. There are hidden rules for race, nationality, region, age, sex, religion, and economic class, with those of economic class exerting some of the greatest influence on our behavior. For example, children from poverty, who could not always count on having enough food, are known to hoard food when they live in middle-class foster homes. "In poverty, the focus is on the quantity of food. In middle class (where having food is a given), the focus is on the quality of the dish" (Using the Hidden Rules of Class to Create Sustainable Communities, DeVol, P.).
Schenectady Bridges partners -- The City Mission, Ellis Medicine, SCAP, Hometown Health, Healthy Schenectady Families, BOCES of the Capital District, and Parsons -- are working together and training their staffs in Bridges philosophy and embedding it throughout their programs.
"None of us can be apathetic to poverty, and collaboration is essential," said Robert Carreau, executive director of The Schenectady Foundation. "One of the key aspects of Bridges is that it involves people from all economic classes coming together to build resources, improve outcomes, improve job retention, and support those who are moving out of poverty."
"Many of us had spent almost our entire careers working with people from poverty," said Mike Saccocio, executive director and CEO of City Mission, which first championed Bridges in Schenectady. "Bridges materials and trainings really got us to better realize that there's a lot we didn't understand. But from that understanding, a whole new strategy could emerge in which our folks were being trained to be leaders and to really be part of community transformation and change."
Ellis Medicine's use of Bridges has helped build a communitywide health coalition, and led to measurable improvements in community health. Bridges concepts are formally taught to hospital staff – including doctors, nurses, and administrators. "The goal is to hard-wire Bridges thinking throughout Schenectady's healthcare and community service agencies," said Kellie Valenti, vice president for Strategic Planning and Program Development at Ellis Medicine.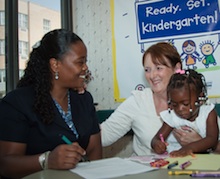 When, as part of Bridges training, a group of health care workers and Ellis Medicine hospital administrators were exploring city bus routes and missed a connection, they had to walk a half mile in the bitter cold -- and became more tolerant of patients who were late for appointments.
In later discussions about transportation issues and efforts to accommodate patients who came late for an appointment or even came on the wrong day or week because of multiple issues, the group considered whether appointments were always really necessary. "Rather than require patients to do what may be difficult or impossible, why not organize the care and treatment process around what patients can do?" said Ms. Valenti.
Hometown Health now sets aside several time slots daily for walk-ins, as do the Ellis clinics, which maintain open slots coinciding with the arrival of the free community shuttle van, which stops at several sites (including homeless housing providers, soup kitchens, and mental health providers).
At the Ellis Health Center (EHC), an outpatient facility providing "one stop" access to a wide range of health care and community services, Ellis partnered with the county Public Health Service and community agencies to provide "nurse navigators" who help patients find their way around the maze of services.
When City Mission residents failed to take advantage of a transitional housing program offered to them, staff members used their Bridges training to re-think their approach. Recognizing that people who are homeless generally don't use abstractions to plan for the future, the Mission switched from verbal presentations about the transitional housing to creating a concrete mental model that included a furnished model apartment. That changed everything, and there is now a waiting list for the units.
The success of Schenectady Bridges is due in part to earlier collaboration by community agency leaders who serve on The Schenectady Foundation's Strengthening Families Advisory Committee.
"At the initial Advisory Committee meeting, we all raised our own organization flags, but over time, the individual flags have come down and a community flag has gone up. Only The Schenectady Foundation could have done this," said Mr. Saccocio. "We got to know each other, to really trust each other. When Bridges arrived, it fueled the collaboration that the Foundation had created. Everyone could take ownership of it."
The Schenectady Foundation provided a $21,000 grant to the City Mission in 2011 to offer two-day Bridges Out of Poverty trainings for staff members. By the end of 2011, 144 staff members from seven agencies were trained. The Foundation has reinvested in the partnership, providing a grant of $50,000 to continue the partnership into 2013.
"Bridges has helped us create a common culture and language across organizations," said Carreau. "This makes things much easier, productive, and positive for people and families who interact with multiple agencies."
Schenectady Community Action Program (SCAP) Executive Director Debra Schimpf said, "SCAP values its partnership with The Schenectady Foundation and Schenectady Bridges. The Bridges tenets are in alignment with SCAP's core values and we find it provides us with a framework to convey these values to our customers, staff, and partners. Additionally, SCAP integrates these beliefs into everything we do from planning for and implementing services, to engaging the community and communicating our message of hope for those we serve."
Central to the Bridges approach, is the belief that "People in poverty are problem solvers whose voices are needed at the table – especially when plans are being made that impact them and their communities."
To that end, Bridges includes a training for adults living in poverty called Getting Ahead in a Just-Gettin'-by-World. Getting Ahead offers a judgment-free way for adults to "examine their lives, investigate new information that is relevant to them, assess their own resources, make plans for their own future stories, offer ideas for building a prosperous community, and choose a team to help them fulfill their dreams."
The results can be dramatic. "One of the Getting Ahead trainees was in drug court at the time, living at City Mission, and her life change was so profound that the judge who ran the drug court called and said 'I've never seen such remarkable transformation in an individual,'" said Mr. Saccocio. "The judge then challenged her to get approval to bring Getting Ahead to drug court participants. She made two presentations to New York Supreme Court judges, and by virtue of her testimony, we got permission to start offering Getting Ahead classes to Schenectady City and County drug court participants, and that's still going today."
With the revitalization of downtown Schenectady, another Bridges success has helped ease tensions between new downtown venues and their neighboring social service agencies.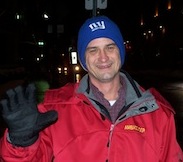 Proctors Theater partnered with City Mission to create the Downtown Ambassadors Program. Ambassadors are Mission residents who have been through Getting Ahead training and have received additional training in middle class rules of the theater and restaurant life. Every night there is a show at the theater, the Ambassadors -- wearing uniforms and carrying flashlights -- greet guests, help people across the street, direct them to parking, and direct them to restaurants. The program went over so well that Metroplex -- the economic development agency -- offered to pay the Ambassadors to continue.
"Moving forward, our focus will be on helping people obtain and sustain employment. How can people who don't have enough resources to plan for the future keep low-wage jobs, and develop the skills to move up?" said Carreau. "This requires bringing the business community to the table. If we can keep people employed longer, it will reduce turnover and build a more skilled workforce. Getting people out of poverty is not only a social service – it's good for business."