More Families Benefit from Effective Parenting Education Program, Thanks to TSF Grant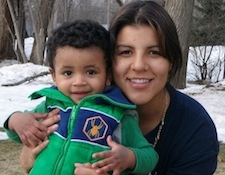 At 21, Rosa P. was pregnant and alone. She left college but found little support at home. The young woman, who was born in Guatemala and adopted at age 13 by a Scotia couple, felt she had no one to answer her many questions, no one to turn to. Lonely and scared, Rosa got in touch with Healthy Schenectady Families (HSF). And that's when everything changed.

"I found a wonderful Family Support Worker at HSF. She visited me every week and answered all my questions," said Rosa. "She cared how I was doing. It was such a relief to have somebody to vent to, cry to, and trust. She taught me to set short-term and long-term goals."

Because of the guidance she received from HSF, Rosa was able to return to college after her son was born. At first, she enrolled in two classes at Schenectady Community College and earned A's in both. She then enrolled full time at University at Albany. She will graduate in May 2012 with a BA in math and Spanish. "After I graduate, I plan to move to Florida – I can teach math there with just my bachelor's -- and also work toward my master's degree. I want to be a high school math teacher," explained Rosa. "If I hadn't had the support from HSF, I don't think I would have made it. Sometimes I want to give up, but my son gives me motivation. I want him to have the best."

Thanks to a two-year, $240,000 grant from The Schenectady Foundation, HSF is able to bring this successful program to 40 more families. "TSF funds will be used to continue the crucially important educational services to strengthen families and reduce the number of children at risk for abuse, neglect, or poor health outcomes," said Robert Carreau, TSF executive director.

HSF's home visiting services -- effectively promoting positive child health and development, and preventing child maltreatment -- are making a profound difference in the lives of pregnant women, parents, infants, and toddlers. At any given time, between 160 and 180 families are enrolled in HSF, a program of Schenectady County Public Health Services that provides home visitors through Catholic Charities Family Services.

Expectant parents participating in the program are helped to have a healthy pregnancy and delivery, and to prepare for the many changes that come along with the birth of a child. A recent study showed that pregnant women enrolled in the Healthy Families New York (HFNY) programs across the state (such as HSF) were about half as likely as a control group to deliver low-birth weight babies. The earlier pregnant women joined the program, the better their birth outcomes.

After learning of the health benefits of breastfeeding, a pregnant teen in Schenectady made the positive decision to exclusively breastfeed her baby. In the hospital, she experienced difficulty nursing, and was discharged, the day before Thanksgiving, with an inefficient hand pump and instructions to supplement with formula. The 16-year-old, brand-new mother felt frustrated and undermined. Her HSF family support worker stepped in that day, obtained and delivered an electric breast pump, provided education and support, and made a referral for a public health nurse during the long holiday weekend, enabling the teen to give her child the healthy start she had planned.

Parents participating in HSF learn how to make the long-term benefits of preventive health care part of their families' lives. As a result, parents find regular medical providers for their children, bring their babies to the recommended well-baby visits, and stay up-to-date on their children's immunizations. And they are taking care of their own health as well. A recent survey showed that 98% of the primary caretakers in HSF families have established a regular medical provider for themselves.

Parents learn positive parenting skills that enhance children's growth and development. Children in HSF are assessed to make sure they are demonstrating age-appropriate developmental milestones. If a delay is detected, there is further evaluation and follow-up. The HFNY study showed that children in the program were more likely to participate in a gifted program at school, and less likely to repeat a grade or receive special education services than children in the control group. Additionally, participating mothers were more likely to endorse appropriate limit setting strategies, use parenting strategies that stimulate children's cognitive skills, and use non-violent discipline strategies. HFNY produced a significant reduction in the number of acts of serious and very serious physical abuse.
"We are grateful to the Foundation for its continued support, which has been instrumental to the growth of Healthy Schenectady Families," said Peggy Sheehan, RN, program manager of HSF. "Every family we serve will be touched by TSF's generosity."
For more information about HSF, visit www.schenectadycounty.com. Click on Departments, then Public Health, then Prevention/Patient Services, then Healthy Schenectady Families.

TSF Advocacy Helped Save HSF from Elimination
As New York State's April 1 budget deadline approached, the highly successful Healthy Schenectady Families program found itself in danger of being cut out of the budget – and thus effectively put out of business. The Schenectady Foundation's strong advocacy on behalf of the program was instrumental in the restoration of funding for the program. In a Letter to the Editor, "State Needs to Encourage Public-Private Partnership," published in the Gazette March 16, TSF Executive Director Robert Carreau made a compelling argument for New York to "reinstate Healthy Families and other proven programs in the state budget, leverage every other available dollar, and embrace the private institutions that know how to get the job done on the ground."