School, Library Work Together to Strengthen First Graders Reading Skills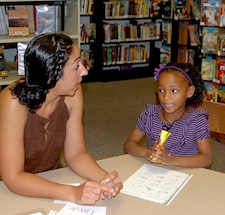 With TSF's help, more students have positive start to the school year
On a sunny August morning just a few weeks before school was to begin, small groups of six and seven year olds were happily working with teachers at Schenectady's Duane Branch Library.
The children, all students from Keane Elementary School, were participating in a three-week literacy intervention program for incoming first graders who struggle with reading.
The program – "Dream Big - Read" -- was funded by a grant from The Schenectady Foundation and, in its inaugural year, showed very promising results.
"The Schenectady Foundation's priority is to strengthen families and achieve positive outcomes for children," said Robert Carreau, Executive Director of TSF. "This successful collaboration between the Duane Branch and Keane Elementary School is a wonderful example of how that can be achieved."
"Children were tested at the end of the program and almost all showed at least one reading level improvement," said Kaela Wallman, Youth Services Librarian, Schenectady Public Library, and co-founder of the program. "We are thrilled with the results!"
Dana DeMarco, Teaching and Learning Coach at Keane and co-founder of the program, noted that, "We test students three times a year, and there is always a big drop from June to September. At the beginning of each school year, probably 90% of the children report that they did no reading over the summer."
Hoping to reverse that trend and to prevent first graders from developing long-term problems with reading, Ms. DeMarco worked with Ms. Wallman to launch the intervention program.
During the three weeks, the students came to the library five days a week, receiving 15 hours of guided reading instruction. During the daily one-hour sessions, children rotated to a different station with a different activity every 15 minutes. This allowed them to receive one-on-one attention, stay on task, and stay engaged. All of the lessons were taught by teachers from Keane and Lincoln Elementary School. Students also borrowed two library books after each session to work on skills at home.
An important component of the program was encouraging a member of each child's family to attend a guided reading session. This enabled parents or other family members to reinforce skills at home. Parents also took part in a mini-workshop on finding library books appropriate for their child's reading level.
"The parents' response has been overwhelmingly positive," said Ms. Wallman. "Being in the library has also been very positive for the older siblings who sometimes bring the children to the library."
"I am so thankful for this program," said Lisa Binette, whose son Xavier was a participant. "Last year, Xavier struggled in kindergarten. But, he loves coming here. He loves having his own library card and having his own books. It has opened a whole new world for him. He's learning to read things on his own for the first time. The experience has been amazing – the small groups and one-on-one attention. It has been such a blessing to have this support and this resource."