This Gift Will Touch More Lives Than We Will Ever Know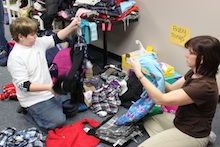 Faced with fewer dollars received through donations, many of Schenectady's nonprofit agencies that serve needy citizens approached this season wondering how they would meet the increased demand for their services.

In response, The Schenectady Foundation awarded grants to help four local agencies provide comfort to homeless and low-income individuals and families during the holidays. Bethesda House, City Mission of Schenectady, Northeast Parent & Child Society and the Salvation Army, all located in the city of Schenectady, each received a $5,000 grant.

"This generous act of loving-kindness will provide much needed material assistance to our most vulnerable neighbors -- hygiene kits, warm clothing, food -- things many of us take for granted during festive holiday times," said Bethesda House Executive Director Margaret Anderton. "This gift will touch more lives than we will ever know."

"We are deeply grateful to The Schenectady Foundation," said Northeast Parent & Child Society Chief Development Officer Sari O'Connor. "Thanks to community support, our professional staff members are able to take impoverished parents on supervised shopping trips to buy nourishing food and age-appropriate holiday gifts for their children. We are delighted that nearly 1,800 family members will be able to enjoy the spirit of the holiday season." In the photo, volunteers David and Eva Jones of the Niskyauna Reformed Church help sort winter coats, hats and gloves donated to Northeast Parent & Child Society's Holiday Hope Fund.
The Foundation conducted an informal survey of a few Schenectady nonprofits to learn about their holiday programs and to assess the economy's impact on the delivery of these programs. The trend for many organizations has been a reduction in state funding, and a decline in the amounts being contributed by individuals.

"The TSF grant will go directly to helping make it a better holiday season for the folks we serve. It will help us give toys for Christmas, warm clothing for winter, good food, and a safe place to stay for those who are homeless," said City Mission Executive Director Mike Saccocio. "We live in a generous community -- The Schenectady Foundation is a big part of it!"

"We're appreciative of the many people who continue to support us throughout the year," said Ms. Anderton. "Yet, while the number of small gifts has remained steady, Bethesda House, like so many other organizations, has seen a drop-off in donors of large gifts."

"Charities are seeing an increase in the demand for services," noted TSF Executive Director Robert Carreau. "City Mission has seen a 10% increase in those needing services. The Salvation Army served almost 15,000 more meals this year over last year, Northeast Parent & Child Society expects to serve 200 more children than last year with its Holiday Hope Fund, and Bethesda House anticipates a sharp increase this year in individuals needing hygiene items, sleeping bags and warm clothing."

"Supporting the basic needs of the most vulnerable people in our community, especially during the cold winter months - is integral to our mission," added Mr. Carreau.

"I am continually blessed and thankful for the wonderful support from our friends at The Schenectady Foundation. As The Salvation Army provides assistance on the front lines of ministry, TSF is the conduit supply line that not only refreshes our supplies but our spirits as well," said Maj. James Guest, Corps Commanding Officer, Salvation Army.

The Schenectady Foundation awarded $5,000 Holiday Program Assistance grants to the following:

Bethesda House (www.bethesdahouseschenectady.org; 374-7873, Margaret Anderton, executive director) will use its grant to purchase items such as food, clothing, personal hygiene items and to provide meals to the many low-income and homeless clients it serves.

City Mission of Schenectady (www.citymission.com; 346-2275, Mike Saccocio, executive director) will apply its grant toward the purchase of new toys, meals, warm clothes and other necessary personal items for clients.

Northeast Parent & Child Society (www.neparentchild.org; 346-5224, John Henley, president and CEO) grant will be used to support its Holiday Hope Fund, which provides gifts, food cards and holiday gift cards to Schenectady County families in the agency's care who require assistance.

Salvation Army (www.schenectady.salvationarmyny.org; 346-0222, Maj. James Guest, corps commanding officer) will use the grant to help purchase warm clothing and blankets for adults, new toys and coats for children, gifts and socks to senior citizens, stock the food pantry and provide meals to walk-in clients and seniors.