Schenectady STEM Scholarship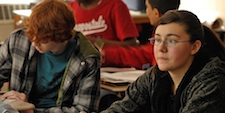 Thanks to a gift from the estate of Sanford A. and Marilyn Shuler, the Schenectady STEM Scholarship (formally known as the Clarence E. Crowfoot and Mary Clarke Fund) was created to assist graduating seniors of Schenectady High School who intend to pursue engineering, math or science majors in college. Mr Shuler was a Schenectady High School graduate who later became an engineer and worked for GE in the 1940's. He later went on to create a colorful career as an inventor and entrepreneur. His thoughtful bequest to The Schenectady Foundation was intended to provide young people from Schenectady with the same opportunities that he was able to access.
The scholarship is for $5,000, and may be paid over four years. Criteria for the selection of recipients include academic performance and financial need.
Congratulations to our past Schenectady STEM Scholarship recipients Michael Glantzis (2016) and Lillian Herrmann (2015)

To apply, please click on the following link to start your application: SCHOLARSHIP APPLICATION.
Applications are due March 17th, 2017 at 5 pm.
For additional information, please contact Jean Churchill at The Schenectady Foundation at (518) 393-9500 or send email to jchurchill@schenectadyfoundation.org.