Partnership Launches Campaign to Feed 1,000 of Community's Chronically Hungry Children
Hunger should not be present in a country with plentiful resources. And yet, it is a fact of life for many children in communities such as Schenectady where 80% of all children qualify for free or reduced cost school lunches based on household income. Understanding that people just don't function as well when they are hungry and tired, it should come as no surprise that providing a reliable source of healthy food not only improves health, but is a positive factor in school performance as well.
And so the Weekend Backpack Partnership was mobiized to bring a weekly source of nutritious food to more of Schenectady's chronically hungry children. Only two years ago the program was reaching only about 350 students. But last year, thanks to donations from community members and caring corporate partners, 900 students went home happier and healthier on Friday afternoons, and returned to school on Monday with more energy and focus.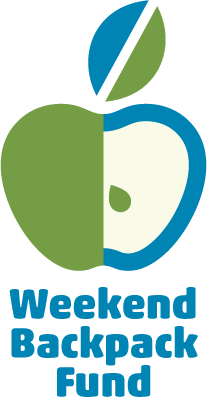 "By working together with our partners, including Regional Food Bank and City Mission, we greatly expanded access to healthy food for children most in need," said Robert Carreau, Executive Director of The Schenectady Foundation. "With the community's help we plan to reach 1,000 children this year."
DONATE TODAY TO THE WEEKEND BACKPACK FUND!
A Goal for the Community
"This year our goal is to increase the number of children participating in Weekend Backpack to 1,000. We are looking to raise $50,000 during the month of September to help make that happen" said Carreau. "With the contributions from The Schenectady Foundation, MVP and SEFCU we can continue the program at its current level. But we are counting on the generosity of the community to enable more children to be served. As little as $25 enables us to provide weekend food for one child for a month. It's a great investment with big returns."
There is promising evidence that the program is more than just providing food to food insecure children:
* 88% of students in the Weekend Backpack Program showed improved or sustained academic performance;
* Students in WBP had fewer disciplinary referrals than students not participating in the Weekend Backpack Program;
* The attendance of participants went up by an average of 10 days over the course of the school year.
"Poor nutrition influences physical and emotional well-being," said Carreau. "Children from low-income families who are reliably fed during the week at school where they are virtually guaranteed a meal may be going the whole weekend without a full meal. In the classroom, this shows up as inattention, lack of energy, poor grades and behavioral issues."
Further, children who live with constant worry about food everyday experience intense anxiety, and are at significant risk for mental health issues, according to Schenectady City Schools Superintendent Laurence Spring.
Teachers and Parents See the Difference
Teachers see the difference in the classroom. One teacher said of her "Backpack" students, "They are excited and ask for their backpacks on Friday mornings. They wait all day to ensure they receive their bag. When the bags are delivered they seem relieved." Teachers reported that students have less trouble transitioning from the weekend, are more alert on Mondays and are not as anxious or aggressive on Fridays. Describing one child in the program, a teacher said: "On Monday he doesn't seem to be starving for food, and is more energetic and focused."
"These results are proof that ensuring children have nutritious food to eat over the weekend makes a real difference in their performance at school," said Denise Gonick, president and CEO of MVP Health Care, which convened the Partnership. "MVP remains fully committed to supporting this program and is proud to work alongside these fine organizations who share our belief that no child should go hungry."
Food insecurity has become increasingly common in our community. In fact, most "Backpack" students share their food with family members – an indication of how important this program is to the entire household.
"My husband and I both work but have a hard time making ends meet," the parent of one participant shared in a survey. "The backpack program helps us supply some necessities and stretch our food budget. We really appreciate the help."
Weekend Backpack is making a difference. But many more children need this assistance. The community's support will make expansion to more children possible. Please help improve the health, welfare and education of Schenectady's children by donating to the Weekend Backpack Fund today. Or lend a helping hand! Volunteers are needed at the City Mission to help fill backpacks every week. For more information, contact Volunteer@citymission.com or call 346-2275, ext. 311.
Weekend Backpack is a partnership of: The Schenectady Foundation, MVP Health Care, SEFCU, Regional Food Bank of Northeastern NY, City Mission of Schenectady, Price Chopper, and The Schenectady City School District.
Weekend Backpacks Include:
2 breakfast items (e.g., cereal or granola bars)
3 entrees (e.g., mac & cheese, tuna, soup, peanut butter and jelly)
1 Loaf of bread
Milk card for a gallon of milk (distributed every other week)
2 juice boxes
Fresh fruits
Canned vegetables
2 snacks (e.g. cookies, popcorn, pudding)