On Aug. 27, our COVID-19 response coalition held its fourth drive-thru pantry of the summer. (The fifth in total counting one in April.)
The weather did not cooperate. While only a bit of rain fell during set-up, the skies opened soon after the line of cars started snaking up to the eight food-loading stations at the Crosstown Plaza on Watt Street.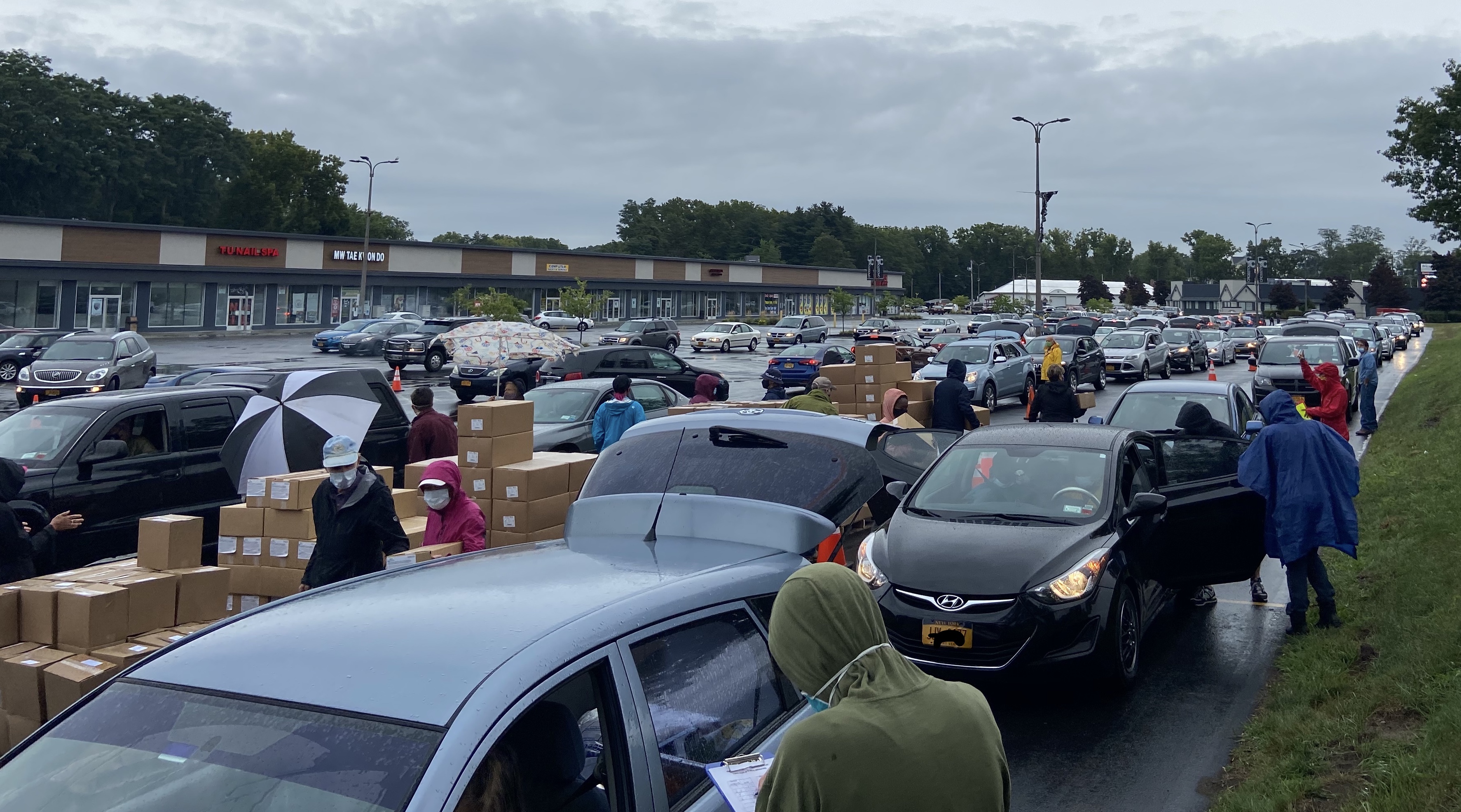 "None of our 40+ wonderful volunteers complained about the rain, and I'm sure they had smiles on their faces under their masks!' said Kristi Miller, the foundation's director of grants and community programs. They do this to help their neighbors in need, and many of them ask on their way out, "When is the next one? Sign me up for it!"
Our efforts were featured in a front-page article in The Daily Gazette. Reporter Adam Shinder gave readers information about how food pantries in the area are meeting the increased demand during the pandemic and increased unemployment. He also included this summary from Kristi Miller, who explained how satisfying it is to see The Schenectady Foundation's ability to help so many in need, but also the difficult reality of how many people are in need of assistance to feed their families.
"It's a double-edged sword," Miller said. "Sometimes, I look at these lines and it just brings me to tears, because I can't believe there's so many people in need that they'll sit in this line and wait. It's sad. But, this is such a good feeling that all these people involved can say, 'Somebody is literally going to eat dinner tonight because of the work I did this morning.'"
Shinder also interviewed city residents who needed the extra assistance to help feed their families, including Aaliyah Westford of Schenectady. From the article:
"Two weeks ago, she was a customer at the Schenectady Foundation's drive-thru pantry at ViaPort Rotterdam. Thursday, she braved the early morning rain to join a couple dozen other volunteers loading cars with food.
"I've been coming to a few of these for a while with my mom and my grandmother," Westford said. "Every time I do, I ask about being a volunteer. People helped me. I want to give back."
The Gazette operates with a paywall system for online subscriptions so if you have one, here's the link to the full article Shinder wrote.
If you can help us in the effort to help the community "re-open" safely and sustainably please follow this link to our Rebuilding Families Fund.