Program helps kids learn to love winter
Learning to ski isn't easy.
There are falls, stumbles and unexpected slips that send children who are new to the sport spinning off in wrong directions. Just getting up the bunny hill at Maple Ski Ridge is a challenge, but the young skiers take the bumps in the road in stride.
"I like skiing," seven-year-old Ny'arie McCormick says. "I want to keep doing it until I get better."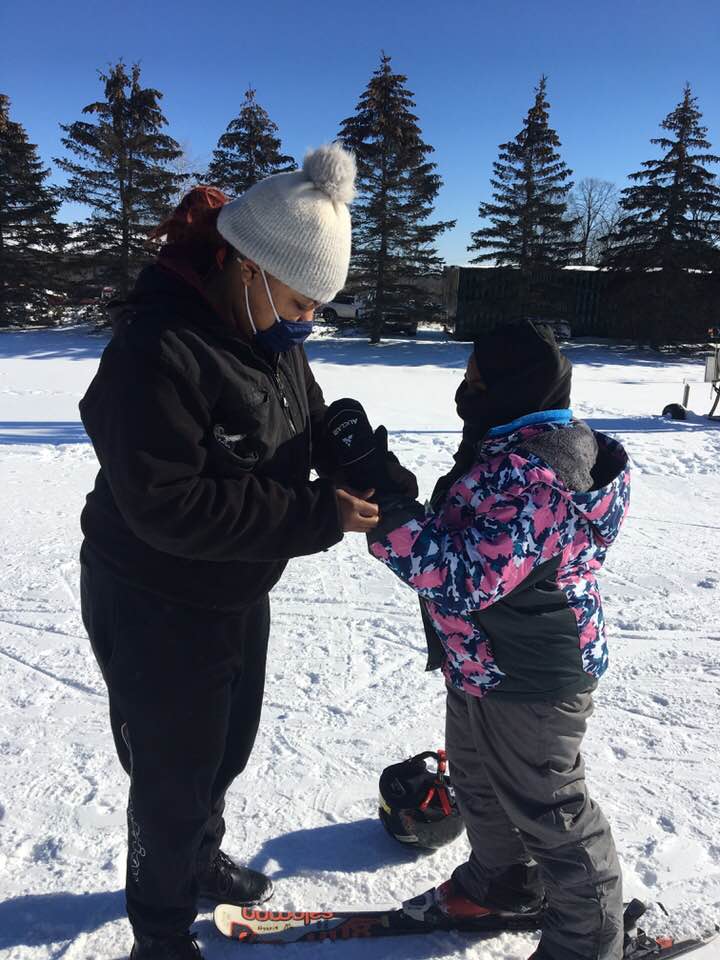 Until this winter, Ny'arie, a second grader at Pleasant Valley Elementary School in Schenectady, had never skied before. At right, Amber Nesbitt adjusts Ny'arie's mittens.
Now, thanks to a new, six-week pilot program aimed at getting youth of color out on the slopes, Ny'arie, her nine-year-old brother Zion Mike, and three other children are learning to ski at no cost to themselves in the hills of Rotterdam.
The program is the brainchild of Ashok Ramasubramanian, a Niskayuna resident who grew up in India and wasn't exposed to skiing as a child.
But for his own children, it was a different story.
They learned to ski at Maple Ridge while Ramasubramanian, 47, waited in the lodge. "I thought it was too late in life for me to learn to ski," he recalled. Then a staff member encouraged him to try lessons, and he signed up.
It was a transformative experience.
"The amount of positive energy I got from this sport - this is how you do winter," Ramasubramanian said. "You can really enjoy winter if you ski, but it's not available to so many people. There's remarkably little diversity on the slopes. The vast majority of time I'm the only person of color."
The ski program spearheaded by Ramasubramanian aims to correct this.
It's a collaborative effort, one that saw a number of community groups and institutions pitch in to get Ny'arie and her fellow skiers to Maple Ridge for lessons.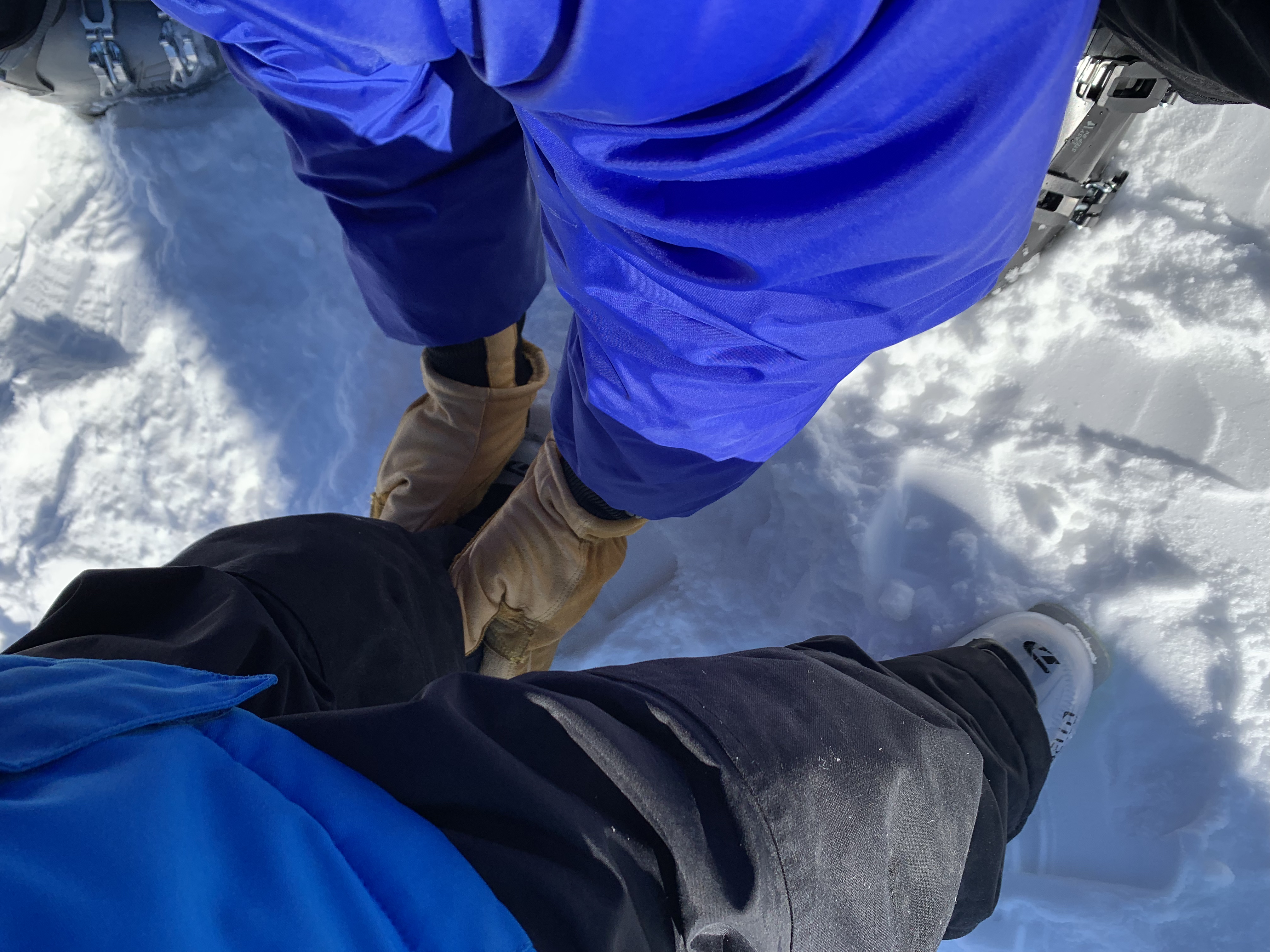 The Schenectady Foundation played a crucial role by bringing the various partners together, while three organizations - Community Fathers, COCOA House and the Boys & Girls Clubs of Schenectady - found children to participate. Alpin Haus provided free gear. Maple Ridge gave the children a big discount on lift tickets and lessons. Lessons are important as students found out the first day that even just how to walk in ski boots takes some maneuvering. Volunteers from the Nubian Empire Ski Club provided valuable assistance during the first lesson and also advised the group on topics such as appropriate winter clothing and staying warm.
Liberty Church in Schenectady provided a van to transport the students to lessons. A GoFundMe page raised nearly $3,000 to cover expenses.
Amber Nesbitt, mother to Ny'arie and Zion, has never skied before.
But she likes what her kids are getting out of the experience.
"Skiing teaches structure," she said. "It gets you active. It builds you up to do other things. … My kids get aggravated and frustrated, but once they're doing it, and they make the top of the bunny hill, they're like, 'I'm doing it! I'm doing it!'"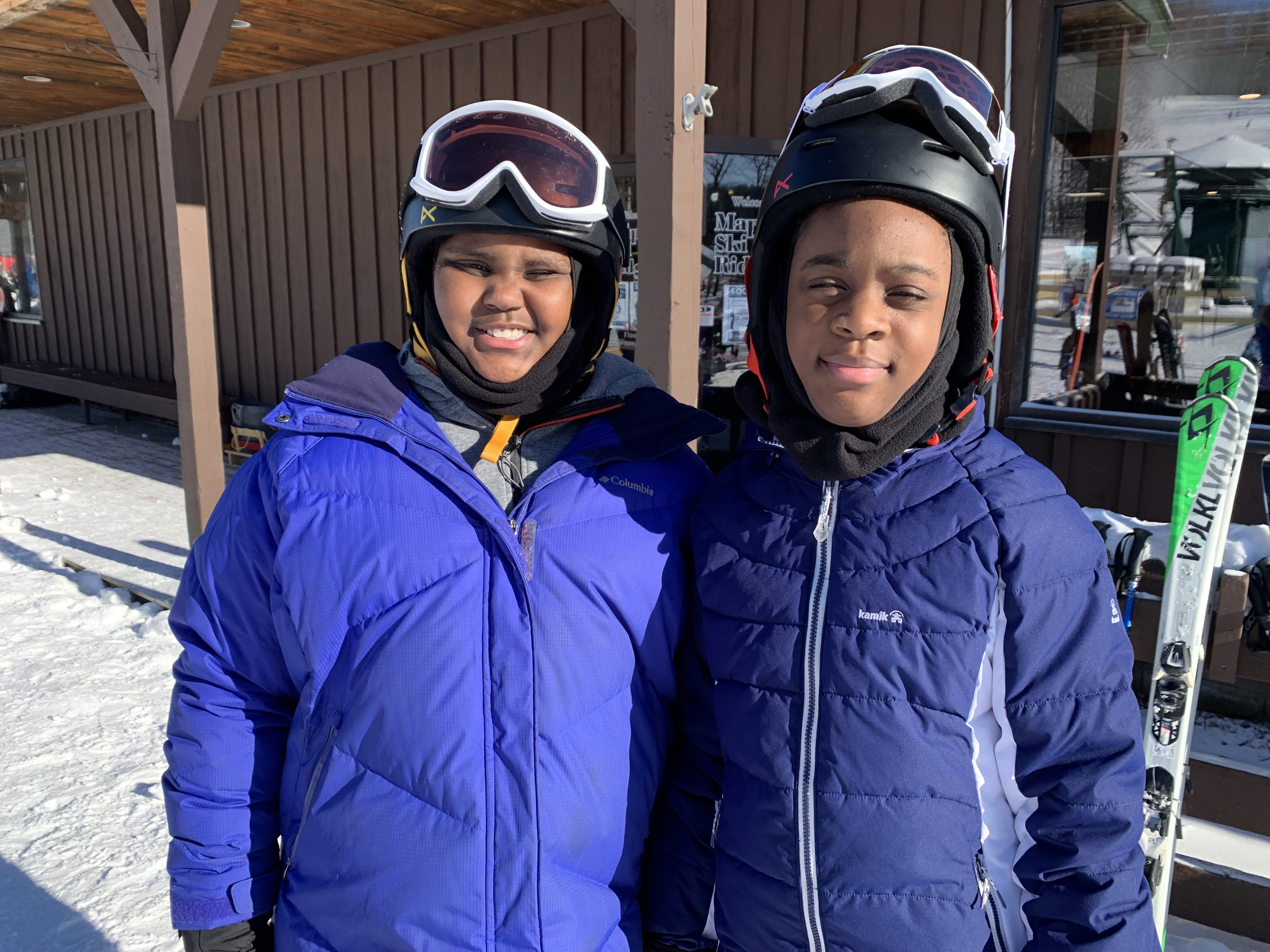 The sport is also new to Yassah Degbeh, a native of Liberia whose nine-year-old daughter, Keziah Weah, shown with Niyanna Brooks at left; is learning to ski at Maple Ridge.
"I come from a warm country," Degbeh said. "I grew up near the beach." Now she's considering joining her daughter on the slopes. "This program is an amazing opportunity," she said. "I hope (my daughter) likes it and we can come back on our own terms."
Ramasubramanian hopes his ski program is the start of something bigger and long-lasting, and that the children now navigating the bunny hill grow to love skiing just as much as he does.
"I used to wait winter out," he said. "Now I don't want it to end."