City Mission Expands Fresh Produce Offerings to Benefit Residents and Community
Above: pictured left to right
James Phillip Allen III, Liddy Ziereer, and Janet Sweeney tend to garden beds in the new greenhouse expansion.
In a greenhouse in Rotterdam, a small crew plants a tasty mix of veggies: cherry tomatoes, peppers, cucumbers, chard and kale.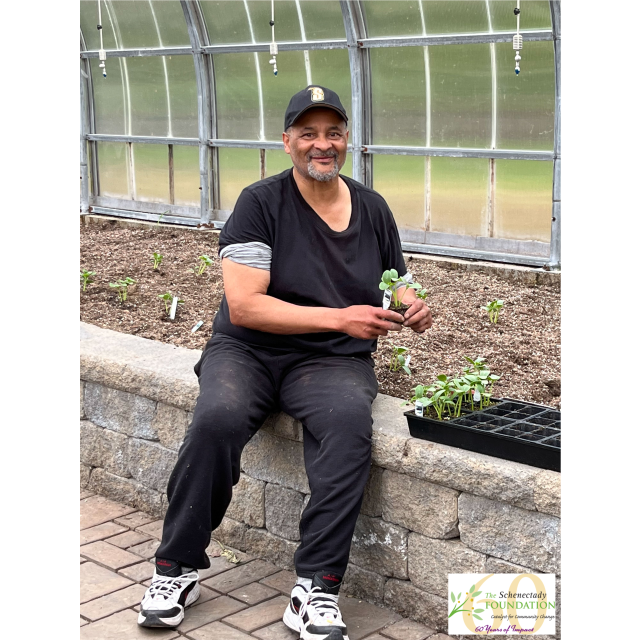 "This is fun," says James Phillip Allen III (pictured at left), while digging in the dirt. "I love watching things grow."
Allen is a former City Mission of Schenectady resident who still attends mission programs and eats at the dining hall. Over the years, he's become accustomed to getting fresh salads at the salad bar, made with lettuce grown by the Mission, with his meals.
Now the City Mission is expanding its produce offerings and will be able to serve residents and other community members a greater variety of locally-grown vegetables with their meals. The effort is supported by a $50,000 Equitable Access to Healthy Food grant from The Schenectady Foundation.
"We get a lot of donated food that's about to go bad," said Liddy Ziereer, a City Mission staffer working in one of the greenhouse's three garden beds on a pleasant May day. "To be able to grow our own food and serve it when it's really fresh is nice."
In 2020, the City Mission began growing lettuce in its "freight farm" - a 40-foot shipping container that can produce hundreds of heads of lettuce each week using hydroponic technology and LED lights.
The greenhouse expansion is part of the Mission's wellness program. It offers participants the opportunity to learn new skills and improve their mental health, nurturing a journey of personal growth and empowerment. "It's not enough to house people," said Janet Sweeney, director of agriculture at the City Mission. "It's about the body, mind and spirit."
"This project is a great fit for our Equitable Access to Healthy Food grant program," said Kristi Milligan, director of grants and community programs for The Schenectady Foundation. "It provides real-life examples of the many ways a person can thrive when they are able to nourish themselves and their families with healthy local food."