Making a splash
Three years ago, The Schenectady Foundation received over two dozen letters from children in the city's Mont Pleasant neighborhood, all asking for the same thing: a splash pad in their local park.
"I would really like a splash pad because I can have fun with my friends and family and it is a good way to cool off," one young letter-writer explained. Another letter is shown at right.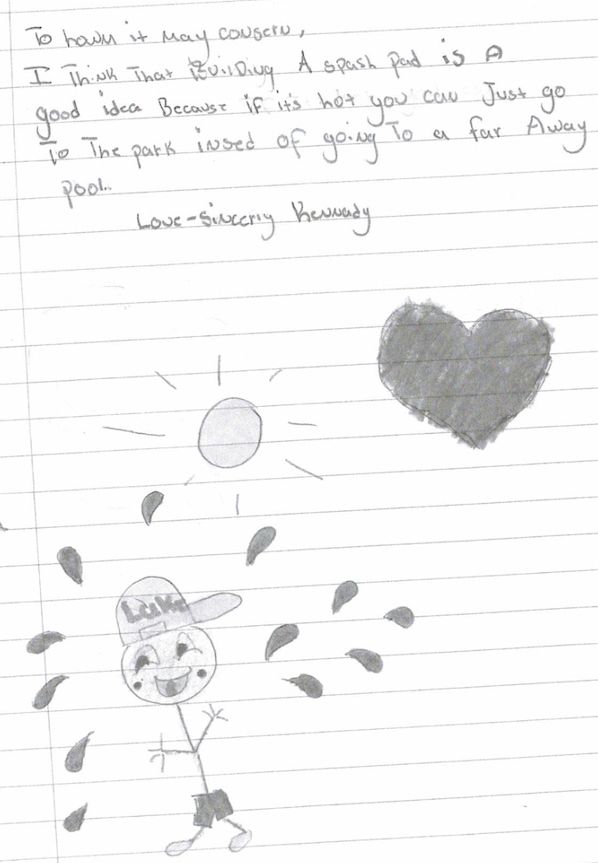 The children who wrote to the Foundation will soon see their dreams come to fruition.
A new splash pad, in Wallingford Park, will open on July 1 - just in time for summer. Then youth of Mont Pleasant will be able to experience one of the season's greatest pleasures: running through a geyser of cool water on a hot, humid day.
"These kids need this," said Pat Smith, president of the Mont Pleasant Neighborhood Association. "They don't have a lot of things. … When the neighborhood works together, this is the kind of thing we can have."
The splash pad is one of The Schenectady Foundation's Thriving Neighborhoods Challenge projects.
This unique grant program invites city residents to submit their own ideas for quality-of-life improvements in their neighborhoods to the Foundation, which awarded $120,000 to the Wallingford Splash pad.
The push for a splash pad was spearheaded by Smith, and received support from the Capital Region Land Bank, which implemented the project, and the city of Schenectady, which upgraded the sidewalks and entrance to the park.
Wallingford Park is an ideal location for a splash pad.
It is a gathering place for children, with a playground, basketball court and free summer lunches. But it also has little shade and can become uncomfortably hot.
"Wallingford Park is relatively undeveloped in terms of amenities," said Robert Carreau, executive director of The Schenectady Foundation. "It is in an underserved part of the city and a neighborhood needing investment. There is not much up that way for kids."
This is the third splash pad The Schenectady Foundation has helped build. The other two are in Tribute Park, on Eastern Avenue, and Woodlawn Park.