Music helps shine spotlight on one Schenectady neighborhood
The streets in and near to the GE Realty Plot were alive with music for 7 hours Sept. 23 during Schenectady's version of Porchfest. (Thanks to Peter Barber of The Daily Gazette for capturing these images.)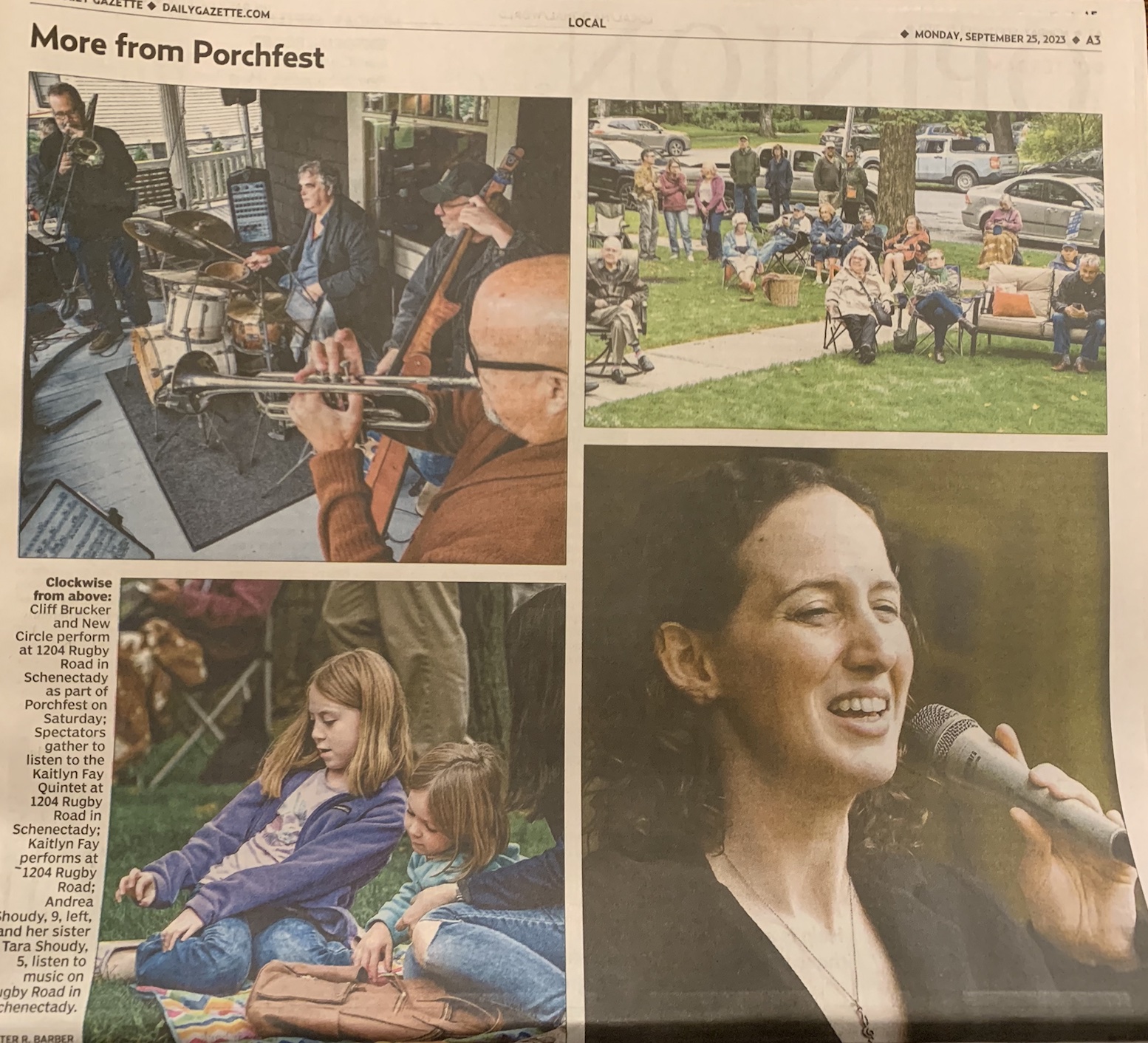 "Not to blow our own horns, but other than the rain, which held off until just before 6 p.m., our first Porchfest was a phenomenal success," said Steve Weisse, one of the organizers of the event. "Our main goal was to transform a neighborhood into a live musical scene, where residents of the neighborhood would mingle with tourists and all while enjoying the sounds of different genres."
The group's secondary goal, getting musicians a paying gig and more exposure during the first autumn weekend when paid performances have slacked off from a busy summer, was also attained.
Owners of 1204 Rugby Road, 1183 Stratford Road, 7 Douglas Road and 1095 Ardsley Road hosted music-loving crowds. Rugby Road owner Marjorie Hyland brought down all her furniture to the lawn from her ample porch, including lounge chairs, a coffee table and loveseats. She also brought out two baskets filled with blankets to warm bodies from the cool September breeze. The scene from her yard is pictured below.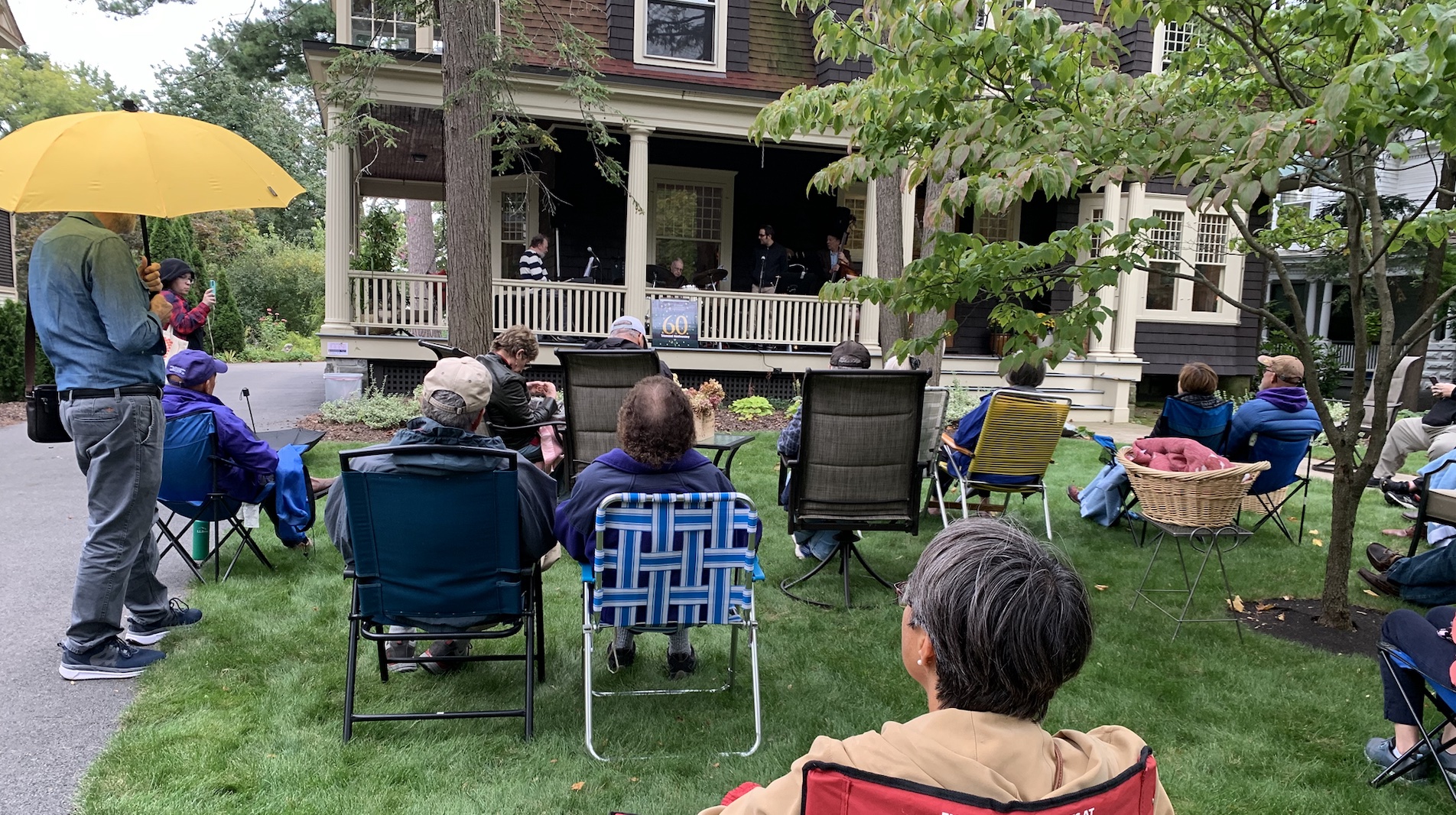 The owner of Ardsley Road, not in the GE Realty plot but within easy walking distance, had balloons and chalk art denoting their participation. That location was also the only porch featuring music from 6 to 7 p.m. when Nice Hockey, an indie-pop style band took over from the Dylan Canterbury Quintet, which ended its set by playing an impromptu Happy Birthday to an attendee celebrating her birthday.
When it was all over, 44 musicians in 13 different groups performed.
Paul Quigley, a classical guitarist performing as one-half of the Hansbrough-Quigley Duo, told the Albany Times-Union that the venue (the city, not the porch) has special significance. "My musical training started right at SUNY Schenectady in their music program," he told C.J. Lais Jr. Quigley's affiliation with the college continues as an adjunct professor, as well as holding similar faculty positions at Rensselaer Polytechnic Institute and the College of Saint Rose.
At Porchfest, his duo paid tribute to a facet of American culture that has seen a rise in the Capital Region and Schenectady, focusing Latin American composers for National Hispanic Heritage Month (Sept. 15-Oct. 15): Piazzolla, Machado, Pujol.

"Whenever you try something for the first time, you learn a lot. As this kept growing, we realized that with just a bit more support we could transform this into something really special for families," Weisse said. "The Schenectady Foundation's support was instrumental to the success of this event."
Other sponsors of the event were the Arts Center of the Capital Region, the Schenectady County Initiative Program and the ElectriCity Arts and Entertainment District. The Mohawk Valley Society for Live Music, the non-profit arm of Local 85-133 of the American Federation of Musicians of the United States and Canada, administered the event.