Regional Food Bank debuts "Just In Time" delivery in Schenectady
The Regional Food Bank of Northeastern New York made its first ever "Just In Time" delivery and it chose a small bi-weekly food pantry on central State Street in Schenectady.
"The plan for Just in Time deliveries has been in the works for a while, and we are grateful to the Regional Food Bank for helping to make it happen,"said Kristi Miller, grants director of The Schenectady Foundation. "The timing was finally right, where the Food Bank had a shipment of fresh produce ready to go, and we connected them with a partner in Grace & Mercy Food Pantry to be able to get that food into the hands of Schenectady residents over the weekend."
The Schenectady Foundation has developed a close working relationship with several food pantries in the county and funds the delivery costs from The Regional Food Bank. (Food pantries, especially those with religious affiliations, often supplement those deliveries with membership donations.) That relationship smoothed the way for the 1,700 pounds of food delivered to 1401 State St. on Jan. 15 and distributed Saturday, Jan. 16.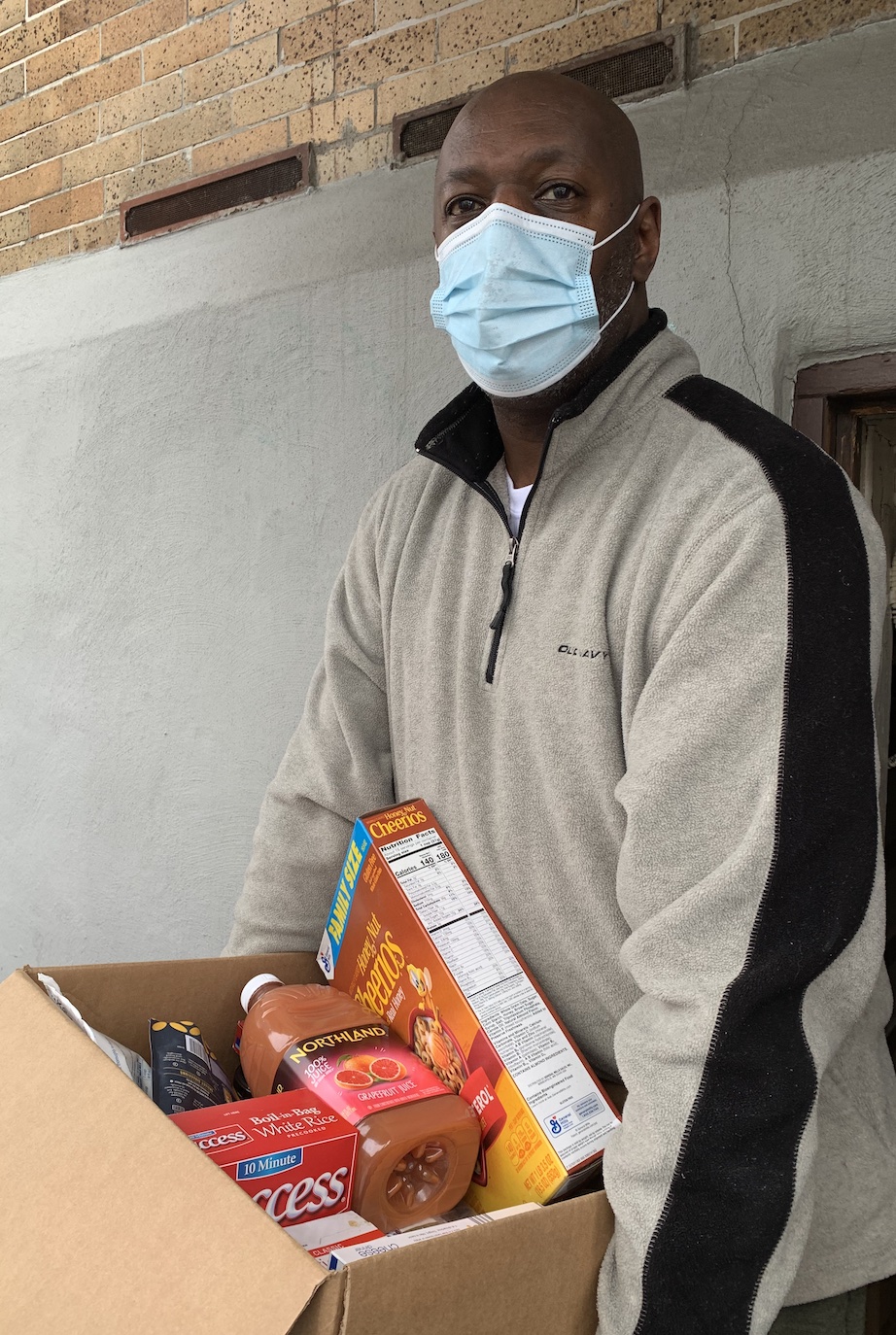 Pastor Ronald Butler of the Grace and Mercy Church of God in Christ on State Street in Schenectady, at right, carried a box of non-perishable food to a customer on Jan. 16. Families also received a box each of fresh produce, dairy items & eggs and frozen seafood and meats.
A food pantry's impact
"Jane Smith" provided extensive details about what the "Just In Time" delivery meant to her family. "Jane" is not her real name because "The Smiths" live in a middle class neighborhood and the neighbors don't know they have moved to the lower-income bracket. Because of medical reasons, Jane has not been able to work more than 10 years. She first used a food pantry because her disability application took awhile to be processed and "even though we didn't have a lot of debt things started to get really tight" with two young daughters at home.
With disability payments and Mr. Smith's salary, the family has made ends meet for the past seven years. "Since I am stuck home without a job, I use a large part of my time looking for deep discounts on food and supplies," she said. "I've learned you can clothe your family in name brand, beautiful clothing if you drive out to the annual church rummage sale in wealthier communities."
Then came COVID
Jane Smith returned to food pantries because her adult daughter lost her job and moved back home and the teenager was home for most meals because of remote learning. "My husband kept his job, but having a full house... has stretched our food budget to its limits," she said.
Jane said she felt like the Old Mother Hubbard nursery rhyme because she missed notice that the high school would switched the day for "take-home" lunches last week and with no school Monday, Jan. 18 she was faced with bare cupboards for the long weekend. Then she saw a Schenectady Foundation Facebook post that the Grace & Mercy Food Pantry had just received that "Just In Time" delivery from The Regional Food Bank of Northeastern New York.
It was the lifeline her family needed. "Seriously this was one of the best food boxes we've received and it was so easy to pick up," she said, adding that she has waited nearly two hours in her car for the drive-through food pantries offered in Schenectady.
"These were huge boxes full of wonderful, fresh produce and a lot of healthy foods," Smith said that Saturday. Two days later, she said "Thank you Sch'dy Foundation for listing this, or I would have never known about it. This food will go a long way to getting us through the week."
Miller noted The Foundation looks forward to expanding this Just In Time partnership to include other pantries around Schenectady County.