Third round of TNC officially opens
What's your idea?
That's the big question underpinning The Schenectady Foundation's Thriving Neighborhoods Challenge program. Instead of telling residents what they need, we ask them to tell us what they need.

What would make your neighborhood safer, cleaner, more livable? What would empower residents and inspire youth? What would make the community better for everyone who lives there?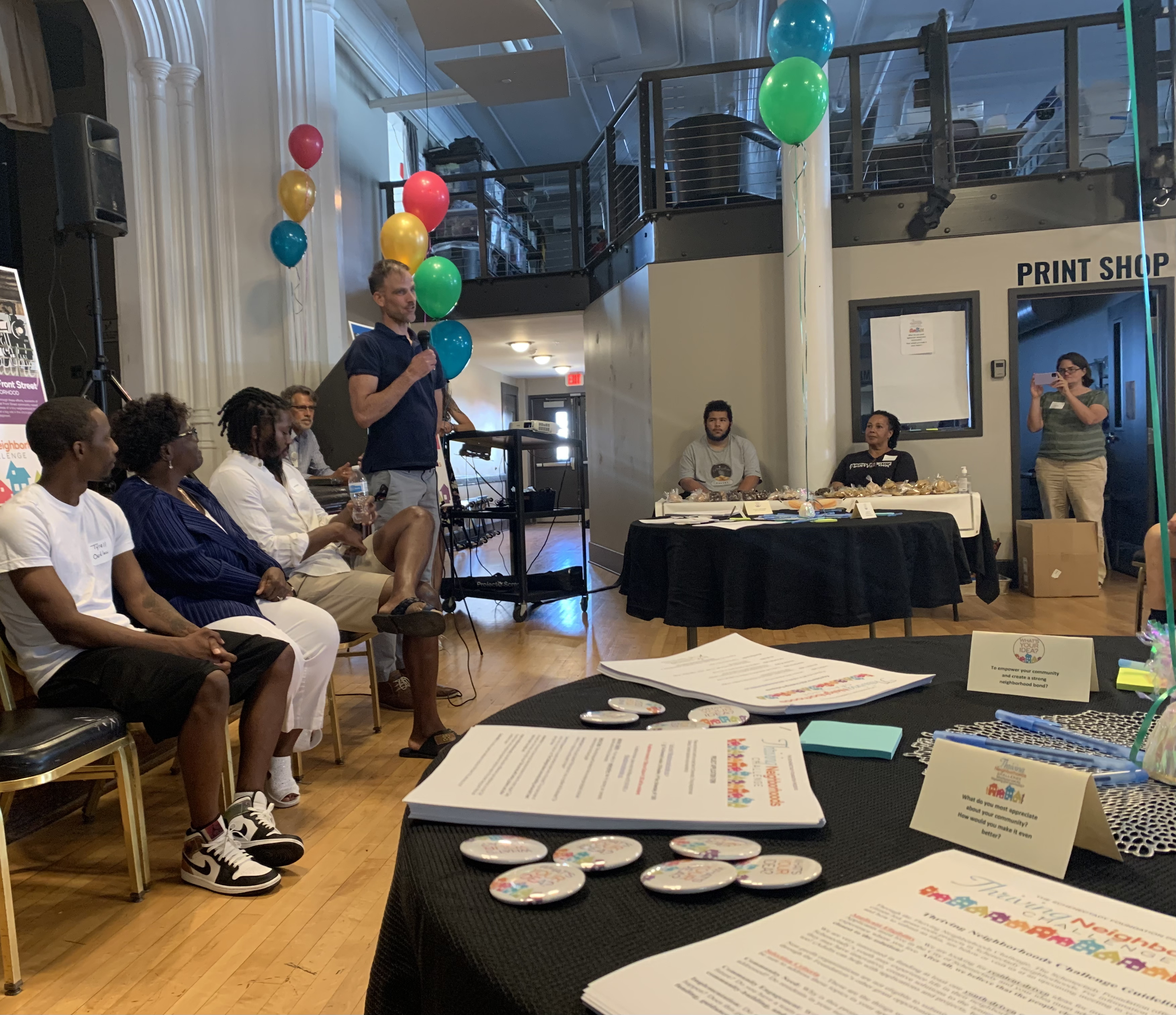 The brainstorming kicked off Aug. 11 at a public event at the Electric City Barn announcing the third round of the Thriving Neighborhoods Challenge. Residents have the opportunity to apply for a share of up to $250,000 in TNC grant funding, and many already have an idea - or at least the germ of one - of how they'd like to spend it. At left, Chad Putman talks about his project from the first round of the Thriving Neighborhoods Challenge.
Some of their ideas were vague, aimed at addressing a longstanding problem or quality-of-life concern, while others were more specific, reflecting a desire for a particular amenity or service.
"There's no place in Schenectady where you can play pickleball," Stockade resident Rich Unger said, when asked his idea for improving the city.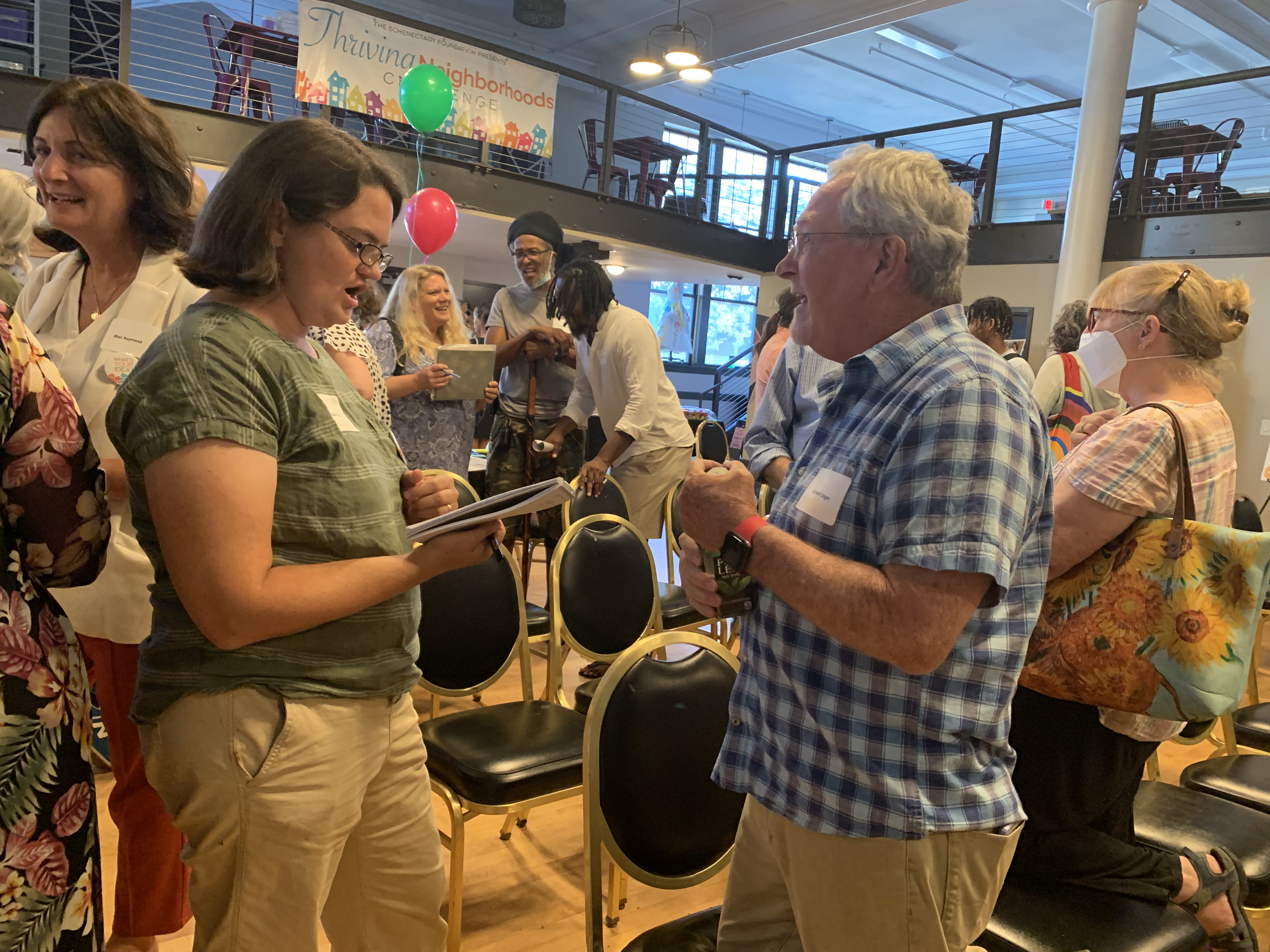 Unger, shown at right being interviewed by Sara Foss, is a member of the newly established Mohawk Pickleball Club, who would like that to change.
He believes bringing pickleball courts to Schenectady would benefit people of all ages, providing young and old alike with an opportunity to play a sport that's rapidly growing in popularity without having to travel to Saratoga County or other parts of Schenectady County.
Retired firefighter Ed Varno, a resident of the Bellevue neighborhood, has been involved with efforts to revive a rundown Little League field near his home. When asked his idea for bettering the city, he immediately mentioned transforming another nearby field into a community garden, with raised, handicapped accessible beds.
"We'd like to make that other field available to the public," Varno said.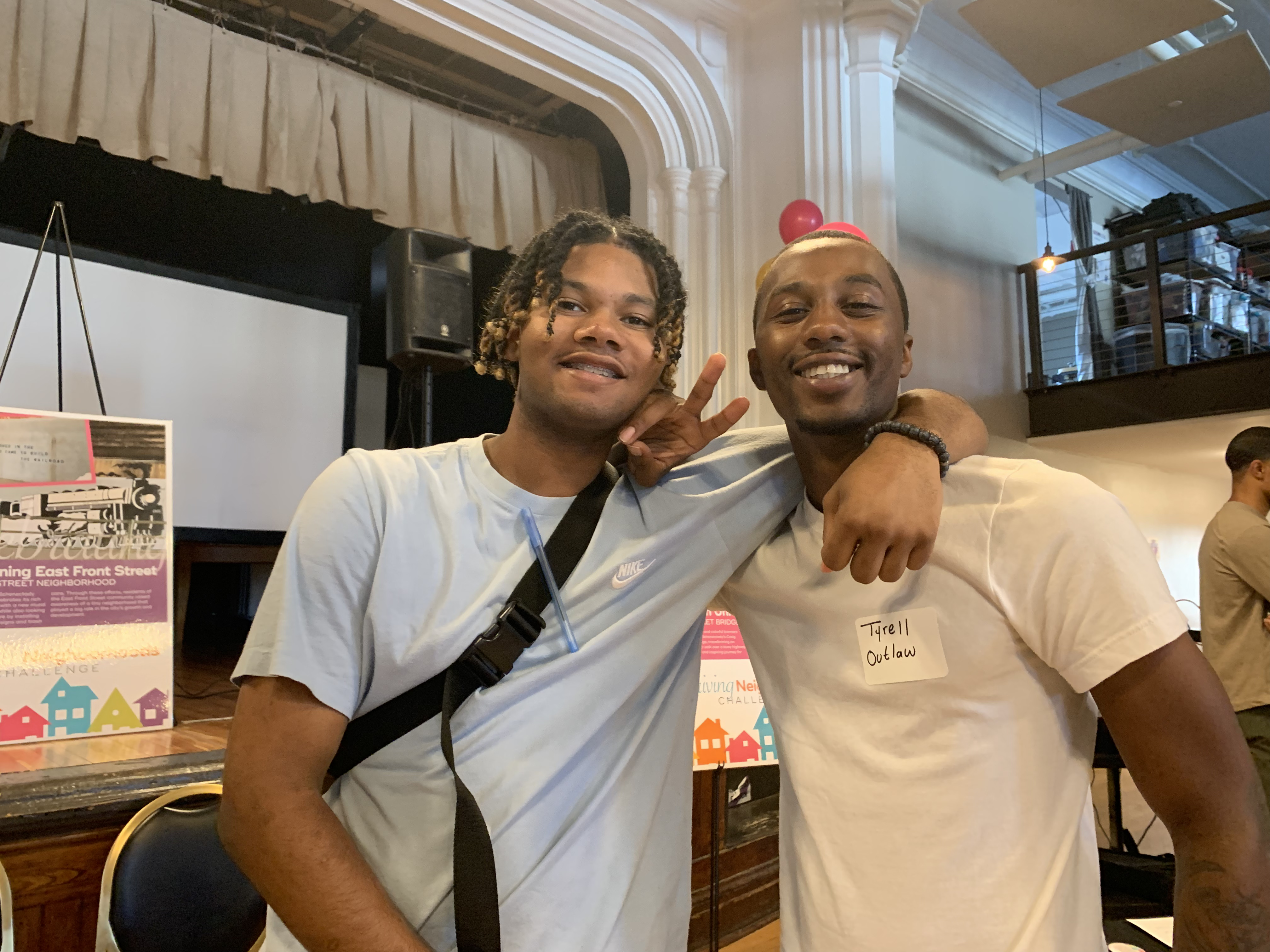 Seventeen-year-old Eric Cortes, shown at left with Tyrell Outlaw, had a big idea: fixing up the city's many abandoned buildings.
"They should be put to use," he said. "They get abandoned and they don't get fixed."
Among other things, Cortes would like to see these vacant properties reborn as local businesses - "a food place, a thrift shop, a wellness center."
Camille Sasinowski, president of the Goose Hill Neighborhood Association, said she'd like to see the fieldstone wall that circles the pond at Steinmetz Park fixed.
Originally built as a Works Progress Administration project during the New Deal, the wall is "so historic," she said. Restoring it will help teach the history of the Great Depression, "of that period of time when people didn't have jobs."
Nicholas Clay, a Schenectady County resident who teaches mindfulness, said he'd like to see more programs designed to support young adults in their 20s.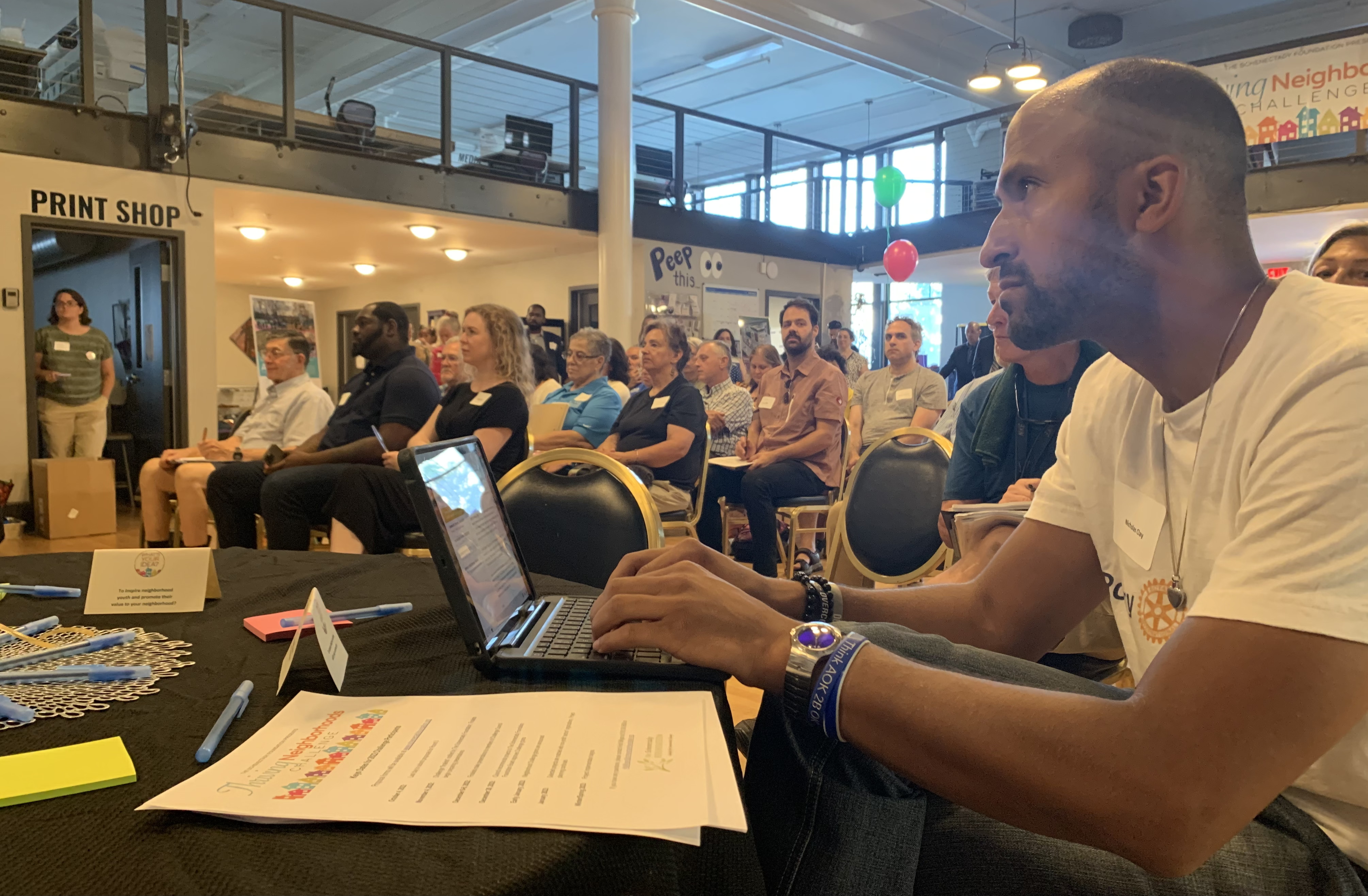 "There's a difference between surviving and thriving," Clay said. "We'd have a thriving city if we could support people so that they're no longer in a survival state." Clay is showing taking notes at right.
Residents have until Oct. 4 to apply for a TNC grant.
Those interested in learning more about the Thriving Neighborhoods Challenge are invited to attend one of the Foundation's upcoming information sessions. These sessions will be held on the following dates and times:
Tuesday Aug. 16 - 1:00 pm at Northside Village Community Room at 2450 Van Vranken Ave.

Thursday Aug. 18 - 5:30 pm at Hillside Crossing Community Room at 736 Albany Street

Wednesday Aug. 24 - 1:00 pm at the Phyllis Bornt Branch Library at 948 State Street

Thursday Aug. 25 - 5:30 pm at the Mont Pleasant Branch Library at 1036 Crane Street

Sunday Aug. 28 - 1:00 pm at the Karen B. Johnson Library at 99 Clinton Street

Wednesday Aug. 31 - 5:30 pm at the Karen B. Johnson Library at 99 Clinton Street
We hope to see you at any of them!