Anna Hudson Erbacher Scholarships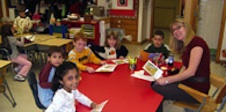 The Anna Hudson Erbacher Scholarship program was founded in 1973 from a charitable trust established by John N. Erbacher in memory of his wife,Anna. A teacher in the Schenectady School system, Anna taught at Riverside school in Schenectady's Stockade when it was first opened. She graduated from New York University with both a master's and bachelor's degree in Education, and was a passionate, dedicated educator throughout her life. This scholarship is intended to support students who share a passion to teach.
The scholarship provides a total of $10,000, paid in equal installments of $2,500 per year subject to continued qualification. The Foundation generally awards two new scholarships each year. The selection of scholarship recipients is based on academic performance, financial need, character and extracurricular activities.
Payment of the grant is made directly to the college upon receipt of satisfactory evidence of enrollment and billing. The grant may be used for tuition, room and board, activity fees and any direct costs that are billed through the bursar's office.
Applications are made available on the Foundation's website in February of each year. Erbacher Scholarship winners are announced in May. To be eligible, the student must:
reside in Schenectady County, NY
be a graduating senior from a high school in Schenectady County
pursue a teaching career by enrolling in appropriate coursework at the college or university
maintain good academic standing
Congratulations to the 2017 Anna Hudson Erbacher Scholarship recipients:
Lindsay Thornton of Niskayuna High School
Victoria Phillips of Schenectady High School
Past recipients of the Anna Hudson Erbacher Scholarship include:
Elena Evenden of Schalmont High School (2016)
Lauren Liberatore of Schalmont High School (2016)
Christopher Rogers of Schenectady High School (2016)
Jena Sagendorf of Mohonasen High School (2015)
Emily Case-Wagemaker of Niskayuna High School (2015)
Megan Hillis of Scotia-Glenville High School (2015)
Rebecca Stacy of Niskayuna High School (2014)
Mikayla Wolken of Duanesburg High School (2014)
For more information, contact Jean Churchill at 393-9500 or email to jchurchill@schenectadyfoundation.org.