It's summer time, and for those with a home garden as the George Gershwin song goes, the livin' is easy. Tomatoes, cabbage, snap beans, cauliflower, squash, onions, sweet corn and cucumbers are plentiful. Apples and pumpkins are right around the corner.
However, based on the lines of folks willing to wait nearly 2 hours before our coalition's Aug. 13 drive-thru food pantry, the picking and livin' is not easy for far too many in our community.
Kat Wolfram was one of dozens of volunteers who helped load boxes of dairy, fresh produce and a choice of pork or chicken into cars. A longtime advocate for food justice, she began volunteering in the coalition's effort in late April, taking calls, entering the data, or even making signs, as shown below.
"Food pantries often require people to be on public assistance but many people lost their paychecks instantly and did not have public assistance, putting them in an unfamiliar position of food insecurity," Wolfram said when asked why she volunteered, adding "Food insecurity remains a troublesome aspect of our food system."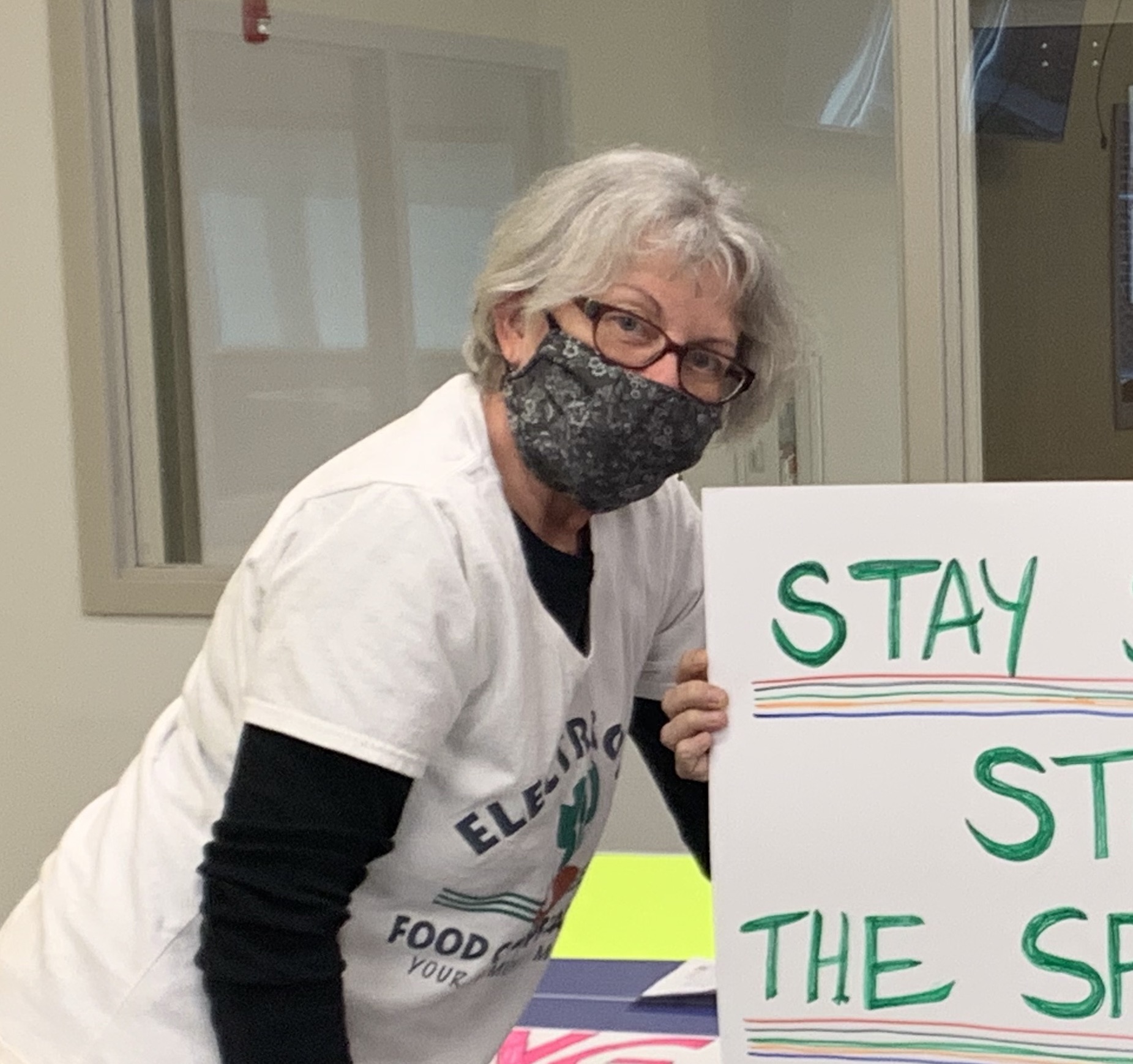 Answering phones in the Call Center from April through June 30, Wolfram talked to people requesting a home delivery. "I heard the stories. I learned of the struggles of families. Because of my privilege, I was often surprised at how deep the need is here in Schenectady County."
To help our region meet that need, The Schenectady Foundation has committed up to $425,000 for food security grants to eligible non-profits through December 21. Here's a link for more information criteria and how to apply.
As our region re-opens, Wolfram vowed to continue to volunteer. "I do not believe people should worry about how they're going to eat healthy food on top of homelessness, joblessness, and a pandemic," she said. "I'll do what I can."
The next Contactless Food Pantry for our Schenectady County friends and neighbors in need of food assistance will begin at 8:45 a.m. Aug. 27 at the Crosstown Plaza on Watt Street. While designed as a drive-thru, there will also be a station for those without vehicles to pick up food while supplies last.